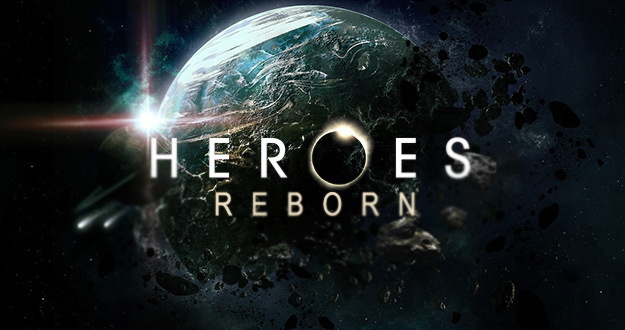 Yes, we are back, after yet another long week of trials and tribulations in the hunt for a new Crisis On Infinite Midlives Home Office forced us to miss another episode, for which we humbly apologize. We believe our Long National Nightmare has ended, and that we will have no further service interruptions… at least until November 1, when we will be in the new Home Office, but likely with no Internet service. But that is a problem for the future.
As for today's problems, well, how do you solve a problem like Heroes Reborn? The sequel to the 2006 – 2010 series that captivated the world before reminding it why many kids abandoned comics once they reached the age of reason ("How about evil carnies? Just write it! I'm taking a long lunch! Did I say 'long?' I meant 'liquid!'") debuted on NBC last week. We are huge fans of Heroes, going back to when we saw the pilot at SDCC 2006, and had high hopes for this return to the world of Peter Petrelli, Hiro Nakamura and visions of the future via Tim Sale. So we spend some time talking about what works, what doesn't, and whether you should tune into this show if you aren't already fans of the Enemies of Sylar (short answer: probably not)!
We also discuss:
Batman Annual #4, written by James Tynion IV with art by Roge Antonio, and:
Gotham By Midnight #9, written by Ray Fawkes with art by Juan Ferreyra!
And, the usual disclaimers:
We record this show live to tape, with minimal editing. While this might mean a looser comics podcast than you are used to, it also means that anything can happen. Like a conversation about how Heroes's Noah Bennet is a (terrible) role model to America's youth via his never giving a woman his real name.
This show contains spoilers. While we try to shout out warnings ahead of time, just assume that we reveal Hiro Nakamura's message from the future.
This show contains adult, profane language, and is therefore not safe for work. Unless you want your co-workers to hear the tale of Drunken Mexican Batman, consider using headphones.
Podcast: Play in new window | Download (Duration: 1:47:58 — 97.7MB)
Subscribe: Apple Podcasts | Android | Google Play | Stitcher | TuneIn | RSS | More
Thanks for listening, suckers!