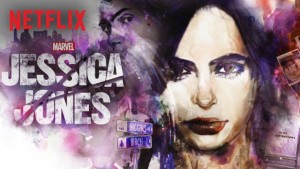 Yes, we are back. And yes, it has been a long time. Thanks to the horrors of moving, which include misplaced boxes, emergency repairs, rescheduled workmen, and the Fickle Fingering of XFinity, we are only just now able to return to the Internet Airwaves. Thankfully, it was just in time to binge-watch Netflix's and Marvel Studios' Jessica Jones, which dropped its entire first season this past Friday.
So we discuss the series, including how, like with Daredevil, it seems about three episodes too long. We talk about how the series compares to Alias, the Brian Michael Bendis-written comic book the series was based on. And we go over how the story works not only as a classic film noir where the femme fatale is actually the hero, and how it can be seen as a tacit examination and deconstruction of Doctor Who.
We also discuss:
Secret Six #8, written by Gail SImone with art by Dale Eaglesham and Tom Derenick, and:
Star Wars: Vader Down #1, written by Jason Aaron with art by Mike Deodato, Jr.!
And now, the disclaimers:
We record this show live to tape, with minimal editing. While this might mean a looser comics podcast than you are used to, it also means that anything can happen. Like discovering why "Comcast" is an unholy word.
This show contains spoilers. While we try to shout out warnings ahead of time, just go into this assuming that we will ruin not only Jessica Jones for you, but also 666 Park Avenue and diaper fetishism.
This show contains adult, profane language, and is therefore not safe for work. You want your boss to hear a sentence that contains the phrases, "railed," "in the," and "heat pump?" Get yourself some headphones.
Podcast: Play in new window | Download (Duration: 1:18:20 — 70.3MB)
Subscribe: Apple Podcasts | Android | Google Play | Stitcher | TuneIn | RSS | More
Thanks for listening, suckers!