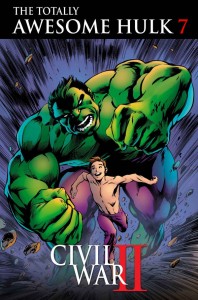 It has been a busy week here at the Crisis On Infinite Midlives Home Office. Between the delivery of new cooking apparatus that can also conveniently act as an incendiary bomb, to unexpected day job responsibilities, to nearly getting caught up in an unexpected session of Cornhole, it was hard to keep up on a week that was comics news-light to begin with.
So we decided to keep things short and simple this week, and just talk about some comics. And while we have some general discussions about how it was a standard off week for Marvel's Civil War II event (by standard, we mean that every Marvel comic had "Civil War II" on the cover, without advancing the main story a whit), and how DC's Rebirth continues to be a pretty solid soft reboot that's unfortunately wrapped in the wretched trappings of Watchmen characters, we pretty much focused on a few books:
The Totally Awesome Hulk #7, written by Greg Pak with art by Alan Davis,
Justice League #52, written by Dan Jurgens with pencils by Tom Grummett, and:
Teen Titans #21, written by Tony Bedard with art by Miguel Mendonca!
And, as usual, the disclaimers:
This show contains spoilers. So if you want to remain unspoiled on whether or not Lex Luthor will be a villain in DC Rebirth (The answer won't surprise you!), consider yourself warned.
This show contains adult, profane language, and is therefore not safe for work. You think your boss wants to hear details about Boston Cornhole (The answer actually will surprise you! But good luck convincing HR of that!)? Then get some headphones.
As a reminder: We will not have a new show on the week of July 3, 2016. We'll be back the following Sunday.
Podcast: Play in new window | Download (Duration: 58:45 — 58.0MB)
Subscribe: Apple Podcasts | Android | Google Play | Stitcher | TuneIn | RSS | More
Thanks for listening, suckers!