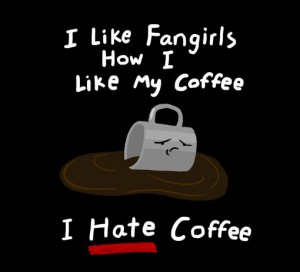 Okay, okay; it's been slightly more than a week (eight days, you want the exact tally) since our last podcast, but we (I) have a good reason, which I expand upon in the first few minutes of the show.
Tune in this week for discussion about:
Automobile vandalism! (Shit, I gave away the super-secret reason for the show's delay!)
Misguided fangirl hate (Prompted by the t-shirt on sale at Wondercon, the design of which you can see at the top left, and the truly reprehensible reaction to Janelle Asselin's critique of the upcoming Teen Titans #1 cover and suggestion that it might be a book prime to be designed for a female audience)
The new Joss Whedon written and produced movie In Your Eyes, which recently debuted at the Tribeca Film Festival and which can be rented for video on demand via Vimeo right now! Here's the first three minutes of the movie (with a built-in button to rent the whole thing) so we're at least kind of on the same page:
Scott Snyder's Batman: Eternal #2 and American Vampire: Second Cycle #2!
And as always, our disclaimer: this show was recorded live to tape, so there may be a few more instances of "um," "uh," and "douchenozzle" than you are accustomed to in a comics podcast. Further, this podcast contains explicit, vulgar language, and is not safe for work. Every cell phone you have owned since 2006 has come with earphones. Use them.
Podcast: Play in new window | Download (Duration: 1:02:09 — 56.9MB)
Subscribe: Apple Podcasts | Android | Google Play | Stitcher | TuneIn | RSS | More
Enjoy the show, suckers!