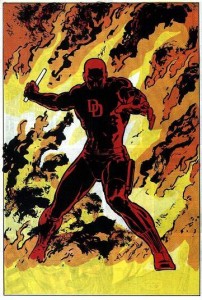 It has been really easy to crap on Marvel Studios recently for their botched handling of Ant-Man in the aftermath of original director Edgar Wright leaving that project a couple of weeks ago. In fact, it's been so easy that it can be easy to forget that the way Marvel Studios got themselves into a position where they have a multi-billion dollar intellectual property empire to defend: by poring over the remains of Jack Kirby's life's work without having to pay his estate a plugged nickel!
Whoops! I meant that Marvel Studios originally got to where they are by generally hiring top shelf, yet often unexpected, talent to work on their projects. For example, it's easy to forget in 2014 that, back in 2007, Robert Downey Jr. was best remembered by the general public as being a drugsucking multiple felon whose most recent on-screen triumph was a comeback on Ally McBeal, from which he had been fired for getting arrested for the fourth time. However, somebody at Marvel Studios remembered that the guy also had been nominated for Academy Awards and Golden Globes, so we all wound up with a compelling dude to play Iron Man.
Well, Marvel Studios is still working that way, at least when it comes to the talent they put in front of the camera. In addition to their slate of movies, they are working on a few TV series that are scheduled to premiere on Netflix in 2015, including Daredevil. Now a couple of weeks ago, they announced that they'd cast Charlie Cox as Matt Murdock (to which we responded by exclaiming a resounding, "who?"), but today they made another announcement. They've cast their Wilson Fisk. And it's a choice that made me a little more excited for this show.