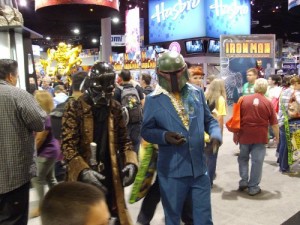 Since we are less than 36 hours away from leaving for San Diego Comic-Con 2014, and therefore are fully engaged in preparing for the trip, we are a little fried today. So this is a shorter than usual episode (not the end of the world, considering we plan to podcast direct from the convention at least a couple of times), but a full one, where Amanda and I discuss:
The changes of Thor to a woman and Captain America to Sam Wilson that were announced on TV this week (if only there were a major convention to make these kinds of announcements!),
Since Amanda and I have attended nine straight San Diego Comic-Cons, we share a few tips on how to survive the whole experience (and avoid an extinction level digestive event), and:
Harley Quinn Invades Comic-Con International / San Diego #1, by Amanda Conner, Jimmy Palmiotti and a bunch of guest artists!
And now the legally-required disclaimers:
This show is recorded live to tape. This means there might be a few more pregnant pauses than you are used to in a comics podcast, but it also means that anything can happen.
There are spoilers in this show. We try to warn you ahead of time, but if you don't know the kind of treatment you'll get at a place called "Dick's Last Resort," you might deserve what you get.
This show contains adult, explicit language, and is not safe for work. I bought earbuds at a gas station for $12 today. What's your excuse?
Podcast: Play in new window | Download (Duration: 1:06:15 — 60.7MB)
Subscribe: Apple Podcasts | Android | Google Play | Stitcher | TuneIn | RSS | More
Enjoy the show, suckers! And don't forget to tune in for episodes live(ish) from SDCC later this week!