Okay, holiday travel is finally over, and if you sat next to me on the plane yesterday evening, I humbly apologize. It turns out that eating alligator doesn't give you any superpowers unless you count asphyxiating passers-by. But for silencing the screaming little bastard in 4F with a little impromptu unconsciousness? You're welcome.
But we are all back at the Home Office in time to slough off ten hours of airline ball sweat and backscatter x-rays (Which also causes no superpowers unless you count this angry mole) and to make the local comic store to pick up this week's take!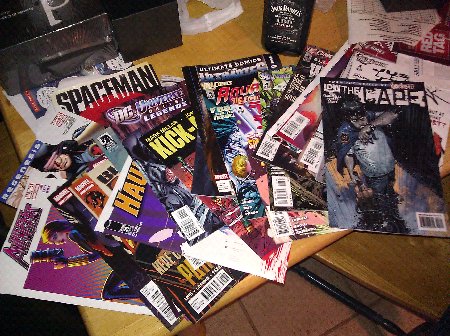 We've got a big week this week: new issues of most of the DC Dark books,  Brian Azzarello's Spaceman, Warren Ellis's Secret Avengers, Joe Hill's The Cape, Ultimate X-Men, and a pile of other books about six inches high! Throw on top of that out upcoming review of the Barnes & Noble Nook Comics application, and we've got a big week as we get back on the horse… just in time for New Year's when we fall off the wagon!
But to crank all that out, we need an evening to read them, so this means the end of our broadcast day. See you tomorrow, suckers!