on
March 26, 2014
at
9:18 pm
Wait – it's been how long since we posted a comic book review? Jesus, we suck.
Well, we do suck, but there are a few reasons for that… none of which we are ready to tell you about at this time. All we are prepared to discuss is that our plans require a certain amount of capital improvements to the Crisis On Infinite Midlives Home Office, which recently has been taking about eight hours a week in just raw animal labor, not counting planning and researching for when that raw animal labor is finally done in a few weeks. And when you combine that effort and planning with a couple of 40 hour a week day jobs, plus care and feeding of Home Office Mascot Parker the Kitten, it makes it hard to sit down for the two to three hours it normally takes us to spit out the 1,000 words it usually takes us to say, "That was terrible!"
But with all that said, we are not prepared to announce, make, or intimate anything different about the Web site at this time. And this is one of those weeks where there is a metric assload of new comics, so I swear to you: we will try like hell to review at least one or two of them.
But the big takeaway of that statement is that there are new comics. Because it is, after all, Wednesday, which means that this…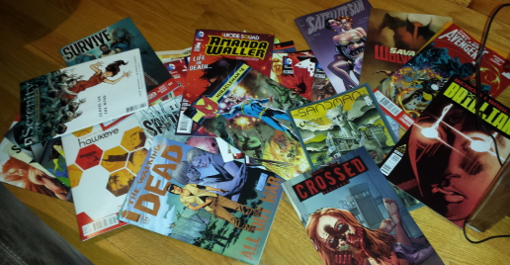 …means the end of our broadcast day.
But there are some really killer books in this week's take. There is the obvious second issue of Neil Gaiman's and J. H. Williams III's The Sandman Overture (only about four months late!), the fifth issue of Brian Michael Bendis's and Mark Bagley's Brilliant (only about so late I can't remember when the last issue came out!), a one-shot about Amanda Waller by Skullkickers writer Jim Zub, the fourth reprint issue of Miracleman, and a bunch of other cool stuff!
But before we can talk about any of them (and with God as my witness, we will try to talk about some of them), we need time to read them. So until that time…
…see you tomorrow, suckers!