Right after we finished last week's podcast about the new Godzilla movie (and had about seven drinks), I told Amanda, "You know, back in the late 70s, Marvel had a Godzilla comic where Godzilla teamed up with S.H.I.E.L.D. He might even have fought Doctor Doom." Amanda responded to this news by putting on her sunglasses, leaning into me like Morpheus hearing about kung-fu lessons, and saying, "Show me."
So when I went to my local comic store, where they know me by name and remind me that the real Godzilla is larger than I'm implying and that the "nuclear fire" he spits is normally less sticky, I showed her.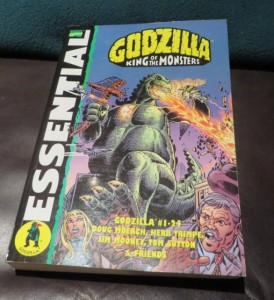 But the important part of that sentence is that we were at the local comic store, which means that this…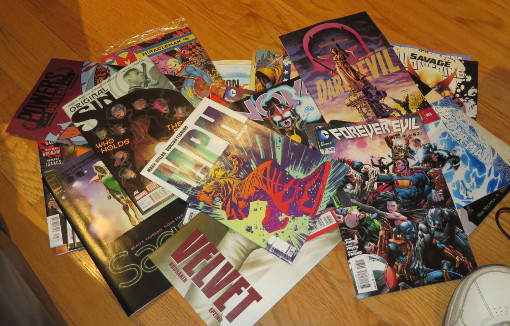 …means the end of our broadcast day.
And there were a lot of good books this week, like a new Hellboy in Hell, a new Saga, and a new Daredevil… but lets face it: the money shots this week are gonna be the (long-delayed) Forever Evil #7 by Geoff Johns and David Finch, the latest Original Sin by Jason Aaron and Mike Deodato, and MPH by Mark Millar (which I already know will piss me off and force me to say the phrase, "Back in Mike Baron's run on The Flash, he introduced a drug called Velocity 9 that caused the user to run at super speed…"). But there is, in fact, a bunch of other cool stuff!
But before we can talk about any of them, we need time to read them. So until that happens…
…see you tomorrow, suckers!