on
November 23, 2013
at
10:38 am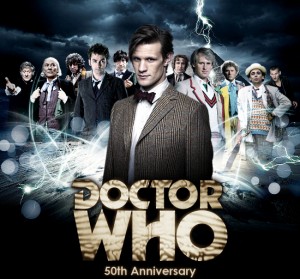 We all know that there is exactly one event happening in geek fandom today… actually wait: let me check my news feed just in case Frank Miller's been caught tazing a pack of hippies in Time Square… oh, look at that! Neil Gaiman and Amanda Palmer are moving to New York from Boston. I had no idea they were even still here in Boston, but then again, I doubt they drink in the same shitholes we frequent. Actually they might, but considering our favorite bars specialize in the installation and maintenance of alcoholic blackouts, I would never remember anyway.
But other than that, the only event happening today is the Doctor Who 50th Anniversary Special, The Day of The Doctor, which is simulcasting on your local BBC affiliate at 2:50 p.m. Eastern Standard Time. What time is that in your area? What am I, a Time Lord? Do your own damn math.
To commemorate the experience, most of the Crisis On Infinite Midlives Staff will be assembling at the Home Office in about an hour, upon which we will be heading out to one of the aforementioned shitholes to drink lunch (and watch futilely for Gaiman, now that we know he lives here) before returning to the Big Screen to watch the show. And we will be Live Tweeting the experience via our Twitter feed.
So while we will be assembling those tweets into an actual post for posterity either later today or tomorrow (pending blood alcohol content), we hope you'll tune into our feed and watch along with us. And by the way, the over / under time for the Tweet reading, "Are there four Doctors on the screen, or is the whiskey getting on top of me?" is 3:25 p.m.