Did you ever have one of those days? I was awakened at 5 a.m. by a kitten who has discovered the joys of a freeze-dried raw meat diet (and its ensuing energy burst) snuffling at my face to see if it contained any of the previously-mentioned freeze-dried raw meat. I then spent an hour playing with the cat to dissipate enough of his energy to prevent him from destroying everything I love. After that, I spent a while tweaking old podcast files to include the metadata that iTunes needs to be useful… while the cat burst around the room knocking comic books to the floor. I then went to the day job, stopped at the comic store, and then have been messing around to add new monitors to the podcast studio… while the cat chirped at me and ate the monitors' shipping box, guaranteeing that I would work harder to get them to work, since I couldn't send them back now.
As we speak, I am staring at this mostly empty page, trying to figure out what to write, while a two-week old episode of The Daily Show plays on the big screen, showing me a late middle aged Debbie Harry warbling One Way Or Another. Seeing this vision after working on a niche broadcasting studio while an animal hisses at me make me feel like I fell into Videodrome sometime in 1984 and just awoke to be accosted by a wild beast with a newly-discovered taste for raw flesh.
So it has been a weird one, but if you noticed, there was a visit to the new comic store in there, which means that this…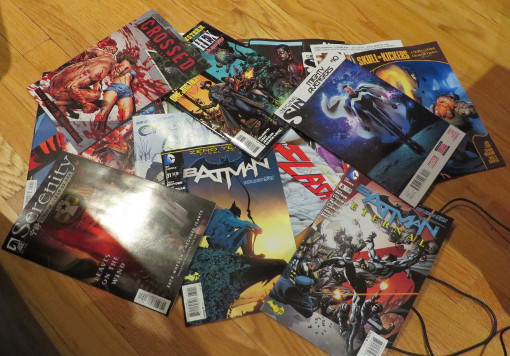 …means the end of our broadcast day.
But there are some good books in this week's take. There are a couple of new ancillary chapters of Original Sin, a new episode of Batman: Zero Year, one of the last few issues of All-Star Western, and a bunch of other cool stuff.
But you know how things are: before we can even think about talking about any of them, we need time to read them, and to ascend to the next level and leave the old flesh. So until that time…
…I'll be the video word made flesh with you tomorrow, suckers!