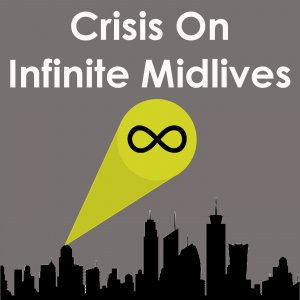 Q: Hey, I haven't been by the site for a while. I come back, and… what the fuck is this? What the hell happened? Did you quit?
A: Hell, no! We've just switched away from posting written content every day. Have you ever tried to write every damn day? It's hard! It leads to questionable judgment! What do you think happened to Chuck Austen?
Q: So what, in fact, are you doing?
A: We've changed our focus to our weekly podcast, The Crisis On Infinite Midlives Show. Every Sunday, Amanda and I (and the occasional guests) talk about a couple of recent comic / genre / geek related topics, and review a few of the week's comic books we really liked (or desperately hated)! Plus, we tell as many filthy jokes along the way as the law will allow!
Q: That sounds pertinent to my interests, as I have a long commute / strenuous workout / extended stretch in solitary confinement I need to kill! How can I obtain this show?
A: How can't you get it? Let's count the ways! You can: