on
December 12, 2012
at
10:02 pm
All right, let's be honest: last week was one hell of a new week for comics. Between the second-to-last issue of The Amazing Spider-Man, to the first issue of Jonathan Hickman's run on Avengers, to the start of Daniel Way's Thunderbolts, there was a shit-ton of new and exciting books to dive into, even if it turned out some of them were more new and less exciting than we were originally led to believe.
This week, things have drifted a little back more toward a weekly status quo; not a bunch of flashy new reboots (but, but, Marvel doesn't reboot! And Night Thrasher has always been the future of Marvel superheroes!), but instead just a steady, relaxing week of regularly-scheduled comics…
Comics like a new The Walking Dead, and one of the last Gail Simone's Batgirl, and one of the first Justin Jordan Deathstroke issues. Well, shit.
For a hum-drum week, that's a lot of awesome, which means that this…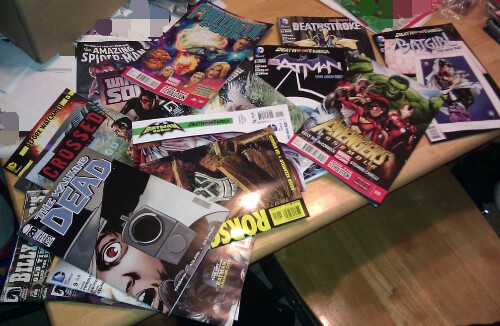 …is the end of our broadcast day.
Seriously: if you gotta have a week of just normally-solicited non-first issues, there are worse ways you can go. There's Scott Snyder's and Greg Capullo's Batman #15 and Pete Tomasi's Batman & Robin #15 continuing the so-far compelling Death of The Family story arc, there's the second issue of Matt Fraction's Fantastic Four, a Kelly Sue DeConnick issue of Avengers Assemble, and even an issue of the best series of Before Watchmen: Brian Azzarello's and Lee Bermejo's Rorschach!
But you know how this works: before we can review any of them, we need time to read them. So while that happens…
…see you tomorrow, suckers!