I know that we have posted fresh comic reviews on Wednesday nights for the past couple of weeks, but things are a little different this week. First off, I have spent a large part of my week's free time dealing with my insurance company and my auto upholsterer, trying to coordinate when I can get my recently-vandalized convertible roof repaired. I have done this all while staring down the barrel of our long awaited semiannual pilgrimage to the American Classic Arcade Museum at Funspot in Laconia, NH to play Tron until I make my inner 12-year-old look like a bitch by making it through the third rack as a 42-year-old. Further, this is the first time this regular trip requires us to interview and employ a catsitter to care for Crisis On Infinite Midlives Home Office Mascot Parker The Kitten.
Overall, it means that this has been a busier-than-usual week for us. Which further means that we decided to celebrate a week's worth of new comics with a pile of beers at the bar next to our local comic store, where they know me by name and ask me to stop talking about our new pussy unless we have high definition photographs of it to share.
This combination of events means that we are not operating at our full capacity. But it still means that we have new comics. Which means that this…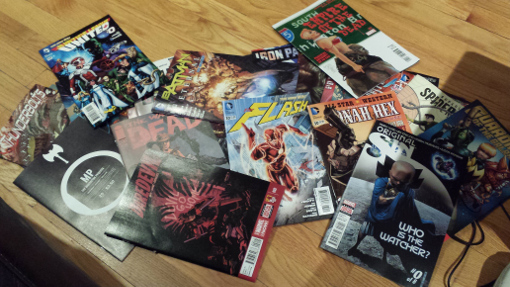 …means the end of our broadcast day.
But there are some good books in that pile. We've got the final issue of Robert Kirkman's All Out War storyline in The Walking Dead (where, if there is a story God, Negan will finally suck the pipe), the first issue of Marvel's Original Sin, Flash #30 (which supposedly features the long-awaited return of Wally West to the New 52 universe), Batman: Eternal #3 (which allegedly does the same for Stephanie Brown), an issue of Guardians of The Galaxy written by Brian Michael Bendis with art by 80s Justice League artist Kevin Maguire, and a bunch of other cool-looking stuff!
But you know how this works: before we can talk about any of them, we need time to talk to insurance companies, get the cat used to being fed by a stranger, and then to read the books. So until that time…
…see you tomorrow, suckers!