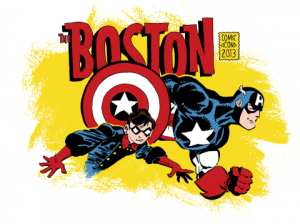 We originally intended to have our final Boston Comic Con roundup episode, including audio from the Spider-Verse, Marvel Universe, IDW Comics and DC Comics panels, produced and online by today. It was an ambitious goal, except for the fact that it required us to edit four hours of audio in, after sleep, day jobs and bathroom time required to prevent slow death by blood poisoning, about the six remaining hours.
Bottom line is that we are sill busily cutting cool panel clips from the convention, and therefore are not ready to put up a new show tonight, So our regular Sunday night show will be our big Boston Comic Con roundup, including panel audio from Southern Bastards and Spider-Gwen's Jason Latour, Batman's Scott Snyder, Dark Knight 3's Brian Azzarello, Locke And Key's Joe Hill and Gabriel Rodriguez, the upcoming Black Knight's Frank Tieri, and a bunch of other awesome creators!
So thanks for your patience, and tune in Sunday night at 10:30 p.m. EST for our big Boston Comic Con show! And while we're sorry we're late, look at it this way: it means we can't do a show about the new (awful) Fantastic Four movie!