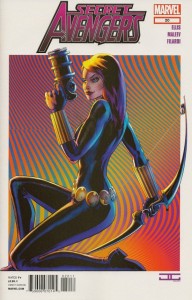 Unlike every other comics Web site in the world, we here at Crisis On Infinite Midlives are not putting together any lists of the best and worst comics of 2011. This is partially because we only came into existence in September, partially because when we review books we try to tell you what we think in a little more depth than a star rating or an idiotic list of weekly winners and losers, and partially because before we started this site we read many, if not all, of our comics on Wednesday nights while shitfaced at the bar next to our local comic store.
But if I were compiling a list of my favorite comics of 2011, Warren Ellis's Secret Avengers would have a rock solid place on it. It has been a series of big idea, one-and-done issues with rotating, top-shelf artists, and an overriding concept – missions to stop extinction-level events that no one can ever know about – that cheerfully lends itself to big stories that can flip the bird to ongoing continuity. And this week's #20 continues the solid run… although I readily admit that more than once, the stories have felt a little, shall we say, recycled.
A couple months ago when I reviewed Secret Avengers #18, I reveled in the fact that Ellis acknowledged that the problem with time travel is that if you just move through time, the planet would have moved, and you would pop out of your time tunnel or your hot tub or your DeLorean in the empty vacuum of space to die with blood boiling in your brain and leaving Elizabeth Shue available for Karate Kid II after all.