on
November 15, 2013
at
8:38 am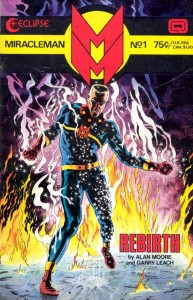 One of the hard parts about getting older is that you start to understand that there's a chance you won't live long enough to see all the cool shit you assumed you would when you were a kid. When I was a kid in the 70s, I assumed that someday I would live on the moon, while now I understand that the best I will ever be able to do is a few minutes in low Earth orbit, strapped into a chair and watching only my vomit float in zero gravity, and even that assumes that I have six figures to give Richard Branson in exchange for a 45 minute "vacation" in space. Hell, when Warren Zevon was diagnosed with terminal cancer, he famously said that he hoped he hung on long enough to see the next James Bond flick, and the poor prick never knew that if he'd survived for two James Bond flicks, he might actually witness a good one.
Yes, this is a morbid and depressing way to start a post about comic books, but it feels appropriate, because I am a Miracleman fan. And as a Miracleman fan, I was thrilled by the recent news that, after 20-plus years of waiting, Marvel was not only gonna reprint the original series written by Alan Moore and Neil Gaiman, but that they intended to publish the as-yet-unseen conclusion of Gaiman's and Mark Buckingham's The Silver Age and The Dark Age stories that were aborted when Eclipse Comics went under and suddenly nobody – and everybody – owned the rights to the character.
However, in comics as in life, there is no good news without bad news. The good news is that Marvel will start reprinting the original out-of-print stories soon, but I don't care about that since I already own the entire original Eclipse Comics run (including Miracleman 3D and Miracleman Apocrypha). But the bad news in this story is that Joe Quesada, Marvel's Chief Creative Officer, thinks that we will see new Gaiman / Buckingham Miracleman stories, well, a little less soon.
Like, in two or three years soon. When I will be 45 years old, and actuarially closer to dead than alive even if I didn't have 35 pack years of cigarettes and about 5,000,000 case years of whiskey under my belt. Or sometimes overflowing my belt.
↓ Read the rest of this entry…