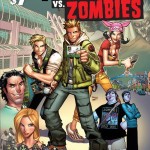 Ok, so, you've got your Comic-Con pass. You've survived the ordeal of finding a hotel in San Diego that will take your money and probably not make you room with a meth dealer. Sure, July is still about 4 months away, but you're already getting pretty excited about Nerd Prom, right.
Of course you are. You know what would make Comic-Con even better?
Zombies.
Behold, released from Boom Studios at the crack of tomorrow:
One is a decrepit mob of gurgling, ravenous fiends…and the other is a zombie outbreak. When there is no more room in Hell, the undead shall take over Comic-Con! A crew of feuding best friends find themselves trapped inside America's largest comic convention transformed into a seething cauldron of zombies. Is a horde of starving brain-eaters any match against reflexes battle-hardened by video games, nerves tested by horror flicks, and courage crystallized by comic books? Find out as an unlikely band of nerds use their genre savvy to survive in Fanboys vs. Zombies!
Seriously! How cool is that going to be? Just take a look at this preview art by Jerry Gaylord, who will be drawing the book:
Fanboys Vs. Zombies will be written by Sam Humphries (Our Love Is Real). If you, like me, are too excited to wait for the full issue experience tomorrow, check out this preview over at Comics Alliance.
Fanboys vs. Zombies – it's on motherfuckers!