on
July 7, 2012
at
8:15 am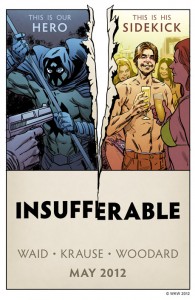 The tricky part about any digital-only comic when you're not generally a devotee of that delivery system is remembering when the Goddamned thing comes out. I know when to go pick up Amazing Spider-Man and Batman because I have a subscription at my local comic store, where they know me by name and ask me to remember that the definition of "digital comics" does not include "publicly giggling at cell phone porn." And I remember that I need to go to the comic store on Wednesdays, because Wednesdays are "Look The Other Way While Rob Curses About Scott Lobdell And Simultaneously Dribbling IPA Onto His Shirt" night at the bar next door… or at least, that's what they've become.
So despite my initial reserved – if not grudging – enthusiasm over the announcement of Mark Waid's and John Rogers's new Thrillbent Comics concern, I kinda, sorta forgot that it had even launched. Which is a hell of a thing to admit from a guy who co-runs a comics Web site – I mean, Mark Waid is one of the biggest names in comics, and if he produced a semi-solid dump that looked like a comic book, I should probably be paying attention – but it's the truth. Hell, every Wednesday I get a hundred-dollar stack of glossy printed comics to read and review; you think I have time to go hunting for more stuff to read?
However, yesterday evening I got back to the Crisis On Infinite Midlives Home Office to find co-editor Amanda hard at work on a review, meaning I had to find a way to kill some time before going to "Avoid Eye Contact While Rob Whimpers That If He Were A More Conscientious Comics Writer He Wouldn't Need The Day Job And Simultaneously Maybe Soiling Himself A Little" night at the pub. So I took a quick look at the Thrillbent Web site to see if I'd missed anything, thinking if I had it was probably a Paypal wall to the books, or maybe a Kickstarter project looking to raise money for, I don't know, professional quality pixels or some such shit at which I could turn up my nose.
Turns out, no such luck.
↓ Read the rest of this entry…