on
February 21, 2014
at
6:47 pm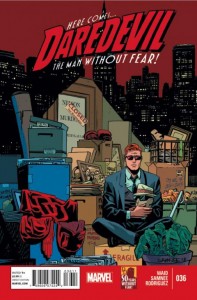 Editor's Note: No one on the white hat side has ever hidden his or her spoilers with less than noble intent.
About 20 years ago, I worked in a job that put me in close proximity with many lawyers. And not the kind of lawyers who champion the powerless and regularly make the short lists for major federal benches, but the kind that advertise during the times of day and kinds of shows likely to be shown in hospital waiting rooms. The kind would chase an ambulance, fake a slip-and-fall, and then sue the ambulance. Real lowlives with cut-rate law school diplomas and Rolodexes full of the kinds of doctors who will certify, from their second floor walk-up offices, that their patients have no legs.
One time I saw one of these guy's clients get busted for insurance fraud after claiming he had permanent debilitating neck pain, and then being caught fronting a thrash headbanger band for a two-hour bar set. I remember another lawyer for whom our standard operating procedure was to immediately counter-sue for frivolous litigation the instant he sent us a letter, not just because he represented the lowest form of Lawrence Brake-Stander, but because he'd lost frivolous litigation lawsuits repeatedly over the years.
Those weasels never got disbarred. In my (admittedly limited) experience, the only way a lawyer gets disbarred is if he wears a mask, but rather than going out to defend the innocent, he uses it to expose himself to the elderly. And even then, they might get a pass for psychological reasons. You know, if they just can find some doctor who will swear before God that, despite all evidence to the contrary, they have a medical condition.
So, while reading Daredevil #36, I had a little difficulty completely believing that Matt Murdock would be disbarred, even considering the extreme circumstances under which he became embroiled in ethics charges. But that's my problem and not writer Mark Waid's, who put together a hell of an issue to close out the third volume of Daredevil. This comic doesn't just shake up the status quo, it puts two into the back of its head… while still remaining somewhat believable and, if you think about it, not being so outlandish that it will completely blow up the character as he has stood for the past half decade or so.
Except yeah: the real New York Bar would just put a strongly-worded letter in his file if he showed up for his hearing sober, speaking English and without the blood of innocents dripping from his Cthuhlu fangs.
↓ Read the rest of this entry…