Select Your Champion
on
October 3, 2012
at
9:25 pm
This is a night that is unique. It is a night when two different and opposing parties meet and battle over their differences until a victor is decided and the course of out immediate future is decidedly chosen.
In addition, the first American Presidential debate is occurring tonight. Because I am clearly talking about the conclusion of Avengers Vs. X-Men, Which concludes this week, and which means that this…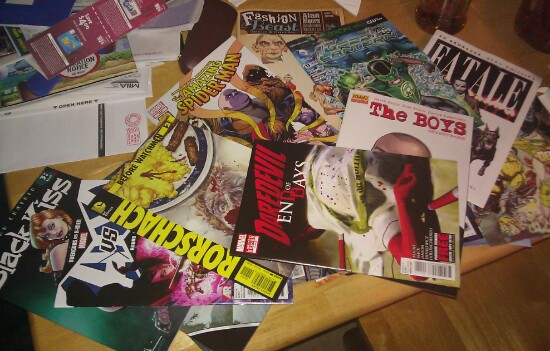 …means the end of our broadcast day.
Still and all, it's an interesting looking week of comics. We're past DC's Zero Month, which means that we have the first cold of honest-to-God issues of Rotworld in Swamp Thing and Animal Man 13, the long-awaited Daredevil: End of Days by Brian Michael Bendis with art by David Mack, Klaus Jansen and Bill Sienkiewicz, plus issues of The Boys, Ed Brubaker's Fatale, and Brian Azzarello's Rorschach!
But you know the drill: before we can review them, we need time to read them. Well, to read them and to decide for whom we will vote for President of The United States. So until all those silly bits of business are done…
..see you tomorrow, suckers!