Bastard To The Last: The Boys #71 Review
on
October 7, 2012
at
9:43 pm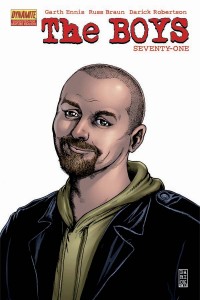 EDITOR'S NOTE: In a world where costumed heroes soar through the sky and masked vigilantes prowl the night, someone's got to make sure the "spoilers" don't get out of line. And someone will.
I've read The Boys #71 a few times now, and I keep going back and forth on how I feel about it. Because it's operating on a couple of different levels, and one of them is on the character level. At this point, we've spent six or seven years with Wee Hughie and Butcher, and what with this being the second-to-last issue, writer Garth Ennis needs to wrap up the relationship between those two guys, which has gone through older brother / younger brother, to stern mentor / insecure student, to mortal enemies. And this issue accomplishes that, in the standard Garth Ennis fashion of violence and manly bonding. Which is always interesting to read, if it doesn't bear a lot of resemblance to any male friendship I've ever been in; I find we tend to resolve our differences with hard liquor , repeat viewings of Caddyshack and the copious application of the word "homo."
However, on another level, when Ennis debuted The Boys back in 2006, he promised that the series would "out Preacher Preacher." And now as we wind into the final couple of issues, it's becoming apparent that The Boys is certainly following the narrative structure of Preacher's conclusion, with two close friends battling each other to a standstill, before coming to a final reconciliation, concluding with the apparent death of the "bad guy," who started out as the "good guy's" closest friend. With all of it happening in the shadow of an American national monument, with the relationship between the "good guy" and his estranged girlfriend unresolved and hanging in the balance. From a structural standpoint, the main difference between the second-to-last issue of Preacher and the second-to-last issue of The Boys is that Cassidy committed suicide by sunlight and Butcher did it via rank, threatening douchebaggery.
Maybe they should've just watched Caddyshack.
This issue picks up where the battle between Hughie and Butcher at the top of the Empire State Building in the last issue let off: with Hughie skewered on the safety fence, Butcher paralyzed from the neck down in the aftermath, and the detonator Butcher intended to use to set off bombs in Manhattan dropped, purely by chance, out of reach and off its Go button. So this is, by necessity, a talking heads issue; it's hard to depict two-fisted action between a quadriplegic and a dude hemorrhaging out of his femoral artery. So here is Hughie's and Butcher's last chance to hash out their differences… all with the cops on their way, and with high-ranking members of Vought-American closing ranks to offer up a scapegoat for the events surrounding the Seven and the other superheroes.
So let's start with the good: as someone who's been following these two characters since the first issue, back when it was published by DC Comics until they got a little gunshy over the fact they Ennis's Superman analog was sexually harassing chicks and sometimes buttfucking other dudes, seeing the actual reason Butcher brought Hughie into The Boys, and the resolution of their mutual story, is generally satisfying and makes sense within the long term of the story. Hughie has been presented from the beginning as being a decent guy in over his head, and we see that that was the whole point; Butcher wanted a decent man to watch over him all along. And Butcher's end is generally satisfying and in character; he was a bastard, he goes out because he's a bastard… and yet his being a bastard reinforces Hughie's innate decentness, even while it threatens to, finally, strip some last part of it away. This final interaction between the characters is weighty, it feels earned, and it generally feels worth the wait to get here.
However, the problem is that this book is, as previously stated, follows the general structure of the penultimate issue of Preacher. It's all there: the final interaction between the hero and his betraying best friend, the request for forgiveness at the moment before death by the betraying best friend, the kinda-suicide of the betraying best friend, and the hero's girlfriend out in the wind, their relationship uncertain. And there's nothing innately wrong with that; hell, they're both written by Ennis, and that issue of Preacher is one of the classics of the genre… and that's the problem. Because The Boys #71 is a good comic book… but it ain't the conclusion of Preacher. And there's no way it could be; the larger cast of primary character was much larger, meaning that the tight, three-character focus of Preacher was never going to be possible in The Boys. And while Butcher's betrayals in this book were much larger in scope than Cassidy's in Preacher – setting up your partners to be killed is a slightly bigger deal than hooking a buddy's girl on dope and boning her – Cassidy's betrayal was more relatable to most readers, making that final battle something more personal feeling. So while the structure is the same, the impact just isn't… and by mirroring that earlier structure, it invites a direct comparison that only diminshes this story.
The art by Russ Braun has continued to improve in this issue, and weirdly it has improved by often becoming a closer and closer match to original series artist and current cover artist Darick Robertson. Throughout the series, Braun has been one of the artists who's had to perform yeoman's work in following Robertson's work, and he has done a good job matching Robertson's general style. Here, his lines are generally a bit thicker than Robertson's, but his figures are realistic (although it's beyond me how Hughie could hang from that spike at that angle without his hip shearing off), his faces very expressive, and the panels featuring Jessica Bradley from Vought-American discovering that Stillwell and upper management have chucked her to the wolves as a scapegoat look like they came straight from Robertson's pen. However, generally the look here isn't slavish imitation, and it works for what is mostly a small-scale, intimate story between two guys who are at the end of their ropes.
Now, I realize that on one level it is patently unfair to compare The Boys #71 to the end of Preacher, but the fact of the matter is that Ennis chose to mirror that story's structure here. And if you're gonna do that, you are almost forcing the reader to make that comparison. So I'm in a weird place where I simultaneously like this book, and the ending it presents for Hughie and Butcher… and am disappointed, because it mirrors the general structure of a story that is simply better. So it works, but it gives itself a self-inflicted wound that prevents it from being truly great. With that said, The Boys has always worked best when read in complete arcs, and the final issue next month might make everything sing. But for now, well, it's a damn good issue, but, well, there's Caddyshack, and then there's Caddyshack 2. And God knows that that's an imperfect comparison, because The Boys #71 is no Caddyshack 2; if it were, it would have to, well, suck on ice. But the point remains: calling back to Preacher isn't a good idea unless that story is as good as Preacher. And while The Boys #71 is good, it ain't that good.