Baboons, Brontosaurs and Boobs: Frank Cho's Savage Wolverine Announced By Marvel
on
October 9, 2012
at
8:25 am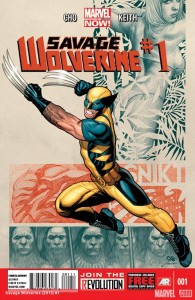 Apparently Marvel realized that their one-word teaser, "Savage," was about as inscrutable and murky as Crystal Pepsi, so they figured they might as well make things official.
Frank Cho will be writing and drawing the Marvel Now new series Savage Wolverine. Not to be confused with The Savage Hawkman from DC Comics; that book was about an angry guy with metal claws who liked liquor, but he could also fly, making it totally different.
Cho, best known in the superhero comic book world for his artwork on New Avengers and Mighty Avengers, and his writing / drawing of Shanna The She-Devil (not counting the giant vagina he drew on the cover of Avengers Vs. X-Men #0), is widely-known as a cheesecake guy, and therefore is totally the most obvious choice to write and draw a short, hairy, foulmouthed drunkard (Look, Ma! I'm in a comic!).
What made you wanna take the gig, Frank?
I pondered and went through my story files to see if any of my story ideas would fit the Wolverine character. I'm a chronic scribbler and I've been scribbling story ideas for years…

So I came up with a cool Indiana Jones/Cthulhu type story that I've been toying around with, modified it and turned it into a Wolverine story. Axel [Alonso, Marvel's Editor in Chief] loved the story and told me to start working.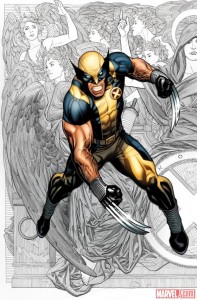 Okay, you have my attention. I like Indiana Jones. I like Lovecraftian horror (I proudly own a t-shirt reading "Keep Calm and Cthuhlu Fhtagn" that causes 90 percent of the people who see it to say, "What'd you call me?"). So I find Cho's ideas intriguing, and I would like to subscribe to his newsletter.
But you're a boobies kinda guy, Frank! Your original art on Shanna The She-Devil was all naked cheesecake before Marvel made you paste bikinis on her! Don't leave me hanging (figuratively and literally), dude…
This isn't just a solo Wolverine story. It's actually a team-up story with Shanna the She-Devil. Both Wolverine and Shanna have similar assertive personalities. The story is not just a quest to get home; it's a story about surviving each other's company and the Savage Land.

I didn't deviate too far from my original take of Shanna from nine years ago. Shanna is still abrasive, scrappy and confident. She knows how to take care of herself. Since Indiana Jones was my main inspiration for this story, I naturally envisioned Shanna as Marion Ravenwood to Wolverine's Indiana Jones.
On paper, this book looks like a bunch of fun. Of course, the world is filled with the wreckage of people who thought they could write an Indiana Jones story, and with people who thought they knew how to write Marion Ravenwood (*cough* *cough* Crystal Skull *wheeze*), but if Cho can carry it off, this could wind up being one of the more fun and unique takes on Wolverine we've seen in a while… and certainly more of a thrill-ride than the joyless mess that the recent run on Wolverine has shaken out to be.
But hey, even if the story sucks, it's gonna be a Frank Cho story set in the Savage Land. Which means baboons, brontosaurs and boobs.
Savage Wolverine #1 is scheduled to be released in January.
(via Marvel)