I'm Normally Not A Praying Man, But If You're Up There, Please Save Me Superman
on
October 31, 2012
at
9:45 pm
Today has been a strange day. First of all, it's Halloween, which means I've spent a large part of the day resisting the urge to go door-to-door in a clown costume and pretend that the courts have ordered me to introduce myself as a sex offender, if only to make the exchange of candy all the more awkward and horrific. Second, with yesterday's announcement of the Disney purchase of Lucasfilm and a new Star Wars movie in the works, it's decidedly difficult to put aside the excitement and trepidation behind that announcement and focus on comics. And finally, it's a couple of days after Hurricane Sandy hit the Boston area, and while we have our Internet service restored here at the Crisis On Infinite Midlives Home Office and are therefore, for all intents and purposes, back to pre-storm normal, the heart of the comics industry in New York is certainly not, which gives our personal triumph of speedy electronic pornography delivery a decidedly bittersweet tang.
But strange day or not, it is Wednesday. And even though the storm delayed the delivery of new comics until 2 p.m. today to my local comic store, where they know me by name and ask me to stop offering to show the paying customers my high-pressure microbursts, the new comics were delivered. Which means that this…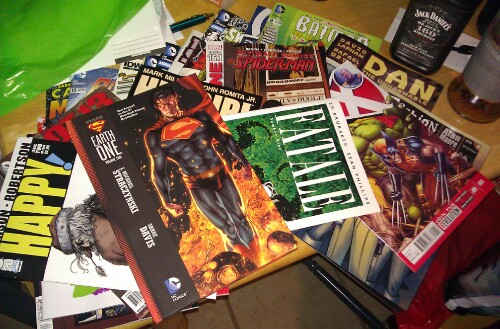 …means the end of our broadcast day.
But while it might be a weird day, it's a good day for new comics. There's Grant Morrison and Darick Robertson's second issue of Happy, Mark Millar and John Romita Jr.'s new issue of Hit-Girl, a new Ultimate Spider-Man, the first issue of Marvel's A+X, Ed Brubaker's and Sean Phillips's new Fatale, and perhaps most prominently, J. Michael Straczynski's and Shane Davis's original graphic novel Superman: Earth One, Volume Two.
But before we have time to write about them, we need time to read them. And we have the time, since being on the northern end of the brunt of Sandy, I only had to deal with the harsh reality of about 36 hours of being forced to jack off using only my imagination. A lot of people in New York and New Jersey are being forced to jack off to the memories of when their comic collections weren't six feet under water, seven miles away. So if you have a minute and a few bucks, please consider texting the word "redcross" to 90999; it'll show up as an extra ten bucks on your cell phone bill next month, which is when Grandma starts sending you your Christmas money anyway.
However, considering we already done done it, it means we can focus on the new books. So until we do…
…see you tomorrow, suckers!