First of all: we are aware that there are problems with submitting comments. We upgraded the Web site last week, doing so for the first time without announcing that we were making changes, and sure enough: things went tits up without our regulars there to test for free while we busily made whiskey safe for children by turning it into pee. We are working on the problem, and hope to have it resolved shortly. For the time being: please try pressing the refresh button next to the CAPTCHA and using the new code just before posting; we've had some luck with that here.
But further work will need to wait until the morning. Because it is Wednesday – the first Wednesday after a long holiday vacations – and that means that we have spent the evening at the bar, counting the days until our time off for San Diego Comic-Con (202 days, by the way).
But is also means new comics – the first substantial take in two weeks – and that means that this…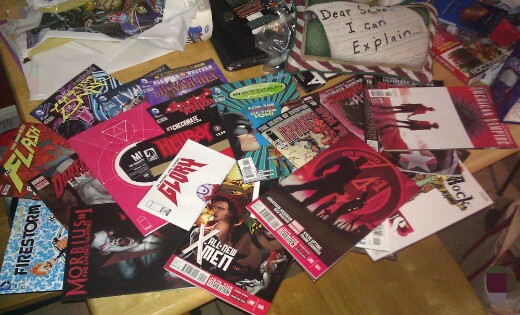 …is the end of our broadcast day.
Kind of a strange take this week. We have a huge pile of DC issue #15s (including Firestorm, the first issue of which we've checked out since the seriously disappointing first one), but there's also the sixth issue of Batman Incorporated (which, as a series, has been hit or miss… but the last issue made my top ten of 2012), along with Hellboy In Hell #2, the latest Marvel Now entries of New Avengers and Morbius: The Living Vampire (plus the lastest Brian Michael Bendis All-New X-Men #5, and Scott Snyder's last pre-hiatus issue of American Vampire, and a bunch of other cool-looking stuff!
But you know the drill (even if it's difficult currently to comment on it): before we can review them, we need time to read them. So until we can do that…
See you tomorrow, suckers!