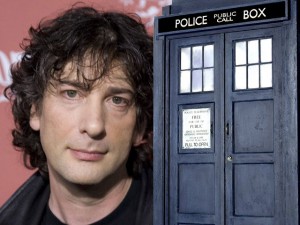 Hypable posted speculation this morning that J.K. Rowling may be involved in an upcoming Dr. Who short story anthology, which will begin as a publication of individual "eshorts" starting on January 23, according to the BBC press release. Although Stephen Moffat is not commenting on the project, publisher Juliet Matthews reports:
We are delighted to have 11 sensational children's authors involved in the series, all bringing an individual style, imagination and interpretation to their eshort tribute to The Doctor. This is a who's who of children's fiction coming together to celebrate the much-loved Doctor Who.
I'm too out of touch with children's fiction these days to have any idea what constitutes a "who's who"; I can't imagine they are digging up the corpse of Lewis Carroll for this project. However, Bleeding Cool thinks they may have found evidence of the possibility of Neil Gaiman's involvement based on this tweet from this morning:
Rewatching lots of old YouTube clips for A Project. I'd forgotten how much I loved Curse of the Fatal Death j.mp/133F6RZ#drwho

— Neil Gaiman (@neilhimself) January 4, 2013
So, who knows? Either way, Dr. Who and children's literature fans will have a field day making guesses and placing bets. The first of the authors for this series will be revealed on January 7. I don't suppose there's a chance that they'd get the Go The Fuck To Sleep guy involved, would they? Now that would be an interesting take on Dr. Who, especially if they got Samuel L. Jackson to read it.