Transitions
on
June 5, 2013
at
8:57 pm
This is a decidedly strange-feeling week in the world of new comics. We've got some long-time favorites either ending (Daredevil: End of Days) or moving into their final days (Locke & Key only has two more issues left, and both Age of Ultron and X-Factor and entering into their last arcs)… while other books are either just ramping up (Kurt Busiek's Astro City is making its debut as a monthly comic), or are getting new beginnings (this week gives us the first issue of Robert Venditti's writing stint on Green Lantern, and Kick-Ass is back in Kick-Ass 3… making Dave Lizewski the first guy to make it three rounds wearing a green rubber suit who didn't spend rounds one and two kneeling in front of a hole in a men's room wall).
So while there's a big feeling of change in this week's books, one thing that has remained the same: it is Wednesday, which means new comics. Which further means that this…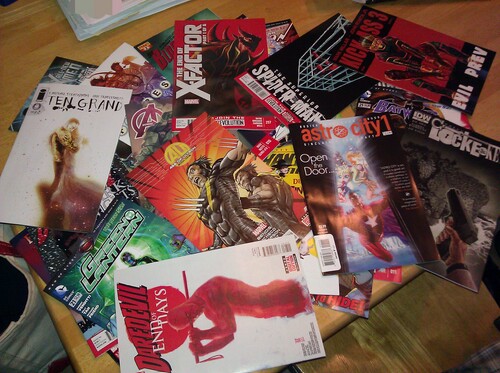 …means the end of our broadcast day.
But it is not just a week of big hellos and goodbyes. We've also got the latest issue of Dan Slott's The Superior Spider-Man (which, almost six months into this arc, if proving still generally and surprisingly fun to read), a new Jim Starlin Stormwatch, the second issue of J. Michael Straczynski's Ten Grand, and a bunch of other cool stuff!
But you know how this all works: before we can talk about them, we need time to read them. So until we can accomplish that goal…
…see you tomorrow, suckers!