Archie And Victims: Afterlife With Archie #1 Review
on
October 9, 2013
at
9:30 pm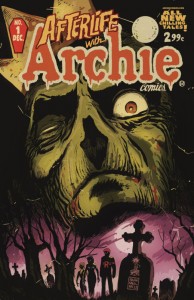 "Afterlife With Archie is my pick of the week," said the owner of my local comic store, where they know me by name and generally ask me to stay right the hell away from the kids' comics.
"…you gotta be shitting me, dude."
"I am not kidding. It is not like any Archie comic you have ever seen…"
"I don't think I've ever seen a Goddamned Archie comic," I muttered.
"…and no matter what you think, it is much darker than you think it is," he said.
"It would almost have to be."
"Go take a look," he said, "Dig to the back of the stack and find one of the variant covers."
I pawed past copies of your expected Archie-style cartoony fake horror covers and saw… something unexpected. "Jesus. How'd they convince Francesco Francavilla to do a cover for this book?"
"By letting him do the interiors, too."
"…come again?"
"Check it out. Take a look at page three."
I opened the book. "Um… is that a Francavilla splash page of Jughead handing Sabrina The Teenage Witch a dead fucking dog?" He nodded. "Okay," I said, "I'll try anything once."
So I did try it. And allow me – a 42-year-old cynical and angry drunk who has just read an Archie comic book – to tell you this: Afterlife With Archie is pretty fucking good.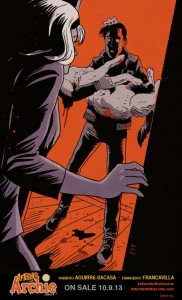 Someone has run down Jughead's dog, Hot Dog, so being a normal teenager, he goes to his friend the witch to try and get the dog healed. Unfortunately, it's too late: the dog is dead, and Sabrina's aunts tell them that it is forbidden for witches to raise the dead. Sabrina, however, takes pity on Jughead and helps him perform a spell that could bring the dog back from the dead… and Sabrina is then punished by banishment to the Nether-World. While Jughead waits at home to see if his dog returns, Archie deals with the expected dithering over him from Betty and Veronica, who both want to accompany him to the Halloween dance, while Reggie mopes around, depressed about something. Jughead, meanwhile, is reunited with his dog… but less in a Homeward Bound way than a Cujo way. Hot Dog's bite makes Jughead too sick to attend the dance… for a while. And when he arrives, well, we all know Jughead's always hungry…
Okay: if you didn't know this was an Archie comic, you would see this as a pretty solid, PG-13ish horror comic. Despite a couple of characters namechecking A Nightmare on Elm Street and Halloween, this doesn't fall into slasher flick territory – it is an Archie comic, after all, so it's not like someone's gonna run a machete through Archie and Betty making the beast with two backs – but there is some darkness here. I've already mentioned the dead Goddamned dog on page three, but we've got Sabrina The Teenage witch performing necromancy (by name; no "naughty magic" or anything like that), and that takes the form of a spell over the grave that Jughead has to dig in the swamp, because "each buries his own." And Sabrina's banishment isn't a kid's time out; her aunts cast a spell to seal her fucking mouth shut… and when they do it, they don't look anything like Caroline Rhea, unless she's been attacked by acid since ABC spiked their "TGIF" lineup in the mid-90s.
This comic doesn't pull punches on the horror: I don't know what Hot Dog looked like before his dirtnap, but if it's anything like what comes back and attacks Jughead (an attack we see in a big panel – the story and the art aren't pulling too many punches), well, if that thing had been in a different story, Old Yeller would have been a comedy. Principal Wetherbee is brutally murdered on the page. And the one zombie that we do see, well, it ain't a Tom Savini blood-n-guts special like from Dawn of The Dead, but that ain't strawberry jam dripping from his jaws, either. And there is a pervasive sense of doom hanging over the whole book: from the opening caption (written in blood) telling us that this is how the end of the world begins, to the final caption promising "full contagion imminent," there is no sense at this point that if someone can just get Richie Rich on the horn, things are gonna end with giggles and chocolate sundaes.
But here's the most impressive thing about this story to me: I've never read Archie comics, but I know the broad strokes same as everybody: Archie is everybody's pal, Betty and Veronica are fighting over him, Reggie's a rich jerkoff, Sabrina's a friendly witch who gets in trouble with her aunts, and Jughead likes food. And all that shit is in this book… but none of it is cartoony or stylized. Sure, Archie's everyone's buddy, but his buddies in this book are suffering from depressing problems when they're not actively in despair. Reggie's a jerk, but this time around it led to something bad enough it not only made him feel guilty, but looks like it could lead to the end of the world. Sabrina's friendly, but her idea of help is so dark and wrong her aunts retaliate (taking her off the board in a smart move by writer Roberto Aguirre-Sacasa (who co-wrote the screenplay to the upcoming Carrie remake, by the way), so she can't be a Deus Ex Machina / Doctor Manhattan to just wish the problem away). And Jughead? Well, like I said: we all know that Jughead eats everything in sight. Moo-hah-ha-ha.
But even though the classic expected character elements are all there, this reads like a book about any teenagers anywhere. None of this feels like a cartoony Archie comic like you'd expect – and again: please note that I'm saying that as someone who's never read Archie books. For all I know, all the Archie books have graduated into legitimate teenaged dramas. But maybe it's just as simple as Francavilla drawing these characters in his normal style as opposed to the Archie house style, but I'll be damned if this didn't just read like any other zombie horror comic geared toward younger-than-adult audiences.
And again: Francavilla's art went a long way toward my sinking into this book. Again, he doesn't do this in any way in the Archie style everyone knows. He does his standard, pulpy kinda stuff, with a limited pallette leaning heavily on red, blue and yellow lighting effects. His lines are simple and medium-to-thick, and really bring to mind illustrations from the old pulp magazines and horror magazines. So the overall effect is simply oozing the feeling of a mid-20th Century horror film, with old-school, almost monochromatic visuals. But what really worked for me and allowed me to embrace the book instead of smirking at myself reading Archie's idea of a horror story was that the characters look like people. Sure, you can tell who everyone is – a teenager with dark hair wearing a crown is either Jughead or some hipster douchebag who just ironically went to Burger King – but they look like human beings. It was the main element that initially made me take this whole experience seriously.
But the writing combined with it to really sell me. Afterlife With Archie #1 takes some elements from other stories (Pet Sematery and Night of The Living Dead, anyone?), and it's gonna be really tame for a hardcore, show-me-the-guts zombie fan… but there's a new issue of Crossed: Badlands for those people if they really want it. But it is a smart story that uses the elements of the Archie world in a really clever way, and does it while giving us believable teenagers in palpable danger and pain. And it is
I expected a quick and light goof from this book. Instead, I got a pretty decent PG-13 horror story that is Goddamned beautiful to look at. I know it's Archie, and I know the counter guy at your comic store might give you a weird look when you hand it to him… but if he does, it's just because he hasn't looked at it. Give it a shot.