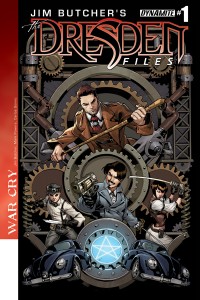 It might be hard to believe, given that we are big enough comic book fans here at Crisis On Infinite Midlives that we started a Website that is dedicated to comics, but we are, in fact, capable of reading books. You know, actual books. Ones with no pictures in them. And sometimes even ones that don't feature superheroes. Although not often. Unless they're written by Neal Stephenson. Which do feature a character named Hiro Protagonist. But that's not the point right now.
The point is that we do read books… albeit usually genre books. And those genre books include Jim Butcher's The Dresden Files. We became fans of the character, as many did, via the Sci-Fi Channel (you remember, back when "SyFy" actually showed, you know… sci-fi?) series starring Paul Blackthorne from Arrow. We became fans of the book, as many did, when I was at Logan Airport waiting for our flight to San Diego Comic-Con, realizing that I'd forgotten to pack a book to distract me from five hours of crippling nicotine fits, and finding Storm Front at the Hudson News near the gate.
So we have enjoyed the series of books (to the point where we own the Dresden Files roleplaying game, and will even play it when we have a spare hour here or there), and have enjoyed the Dynamite Comics adaptations of some of those books, except for the most part, the comics have been just that: adaptations. Meaning that we already know how those stories go and how they end, which mitigates some of the wonder of reading those comics.
But there's a lot of time and activity that happens in between those novels that isn't accounted for, and one would think that those periods would be a fertile groundwork for stories. And apparently, Butcher and Dynamite agreed, because at the currently-occurring Emerald City Comic Con, Dynamite has announced The Dresden Files: War Cry, which is an actual untold story of The Dresden Files… and which puts it high on our pull list.
From the Dynamite Comics press release:
In War Cry, four months have passed since the events depicted in Dead Beat, the 7th novel in the Dresden Files series. A war is raging between the vampire forces of the Red Court and the White Council-a war the wizards are losing. So desperate are the Council that they've dragooned the experienced and the outcast to reinforce their thinning ranks of Wardens. One of these draftees is one Harry Dresden, Chicago's only wizard for hire and a guy who's long been looked upon with suspicion by the supernatural authorities. Now, he's one of them, and his first big mission as a Warden is a doozy: take a small team of greenhorns to a frigid town in the middle of nowhere to rescue a handful of mortals who've been targeted by the Red Court. The question is, why exactly are these particular mortals so crucial to the outcome of the war? The answer will come only if Harry can keep them, and his team, alive for one very long night.

"The greatest frustration about writing the Dresden Files is all the stories I come up with that are too small or too straightforward to write into a novel," says novelist Jim Butcher. "One of the great pleasures I've had as a writer is getting the opportunity to tell some of those stories in a short-story format, and in graphic novels like this one!  WAR CRY is one of the stories I always wanted to tell but never got the chance to in the context of the novels, and I'm extremely pleased with how well it's coming out."
And if it helps grease the skid on your curiosity, here's some art from the series by Carlos Gomez (click them to see full-sized):
Look: if you haven't read any Dresden Files material, it amounts to a wise-ass American version of John Constantine, in a fully-realized universe that just happens to take place in a bastardized version of Chicago. It is fun genre stuff that appealed to this old-school Hellblazer / Vertigo Comics fan, and seeing an original story in the comics makes the comic exciting to me. This is one that's on my pull list.
And it saves my limited prose-reading time for more serious pursuits. Like Cold Days, which Amanda has read, but which I need to catch up on before Skin Game drops in May. And maybe I'll finally have some ideas for that Dresden Files role playing game…
(via Bleeding Cool)