on
September 29, 2013
at
7:36 pm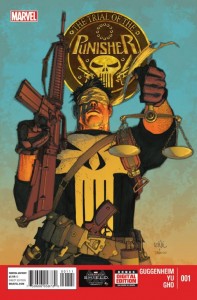 It turns out I missed The Punisher. Go figure.
Sure, we've had a monthly dose of The Punisher in Thunderbolts, but I think we all know that, as fun as that book sometimes is, that's not really The Punisher. Sure, The Punisher is a member of the Marvel Universe, and we have seen him work briefly with Spider-Man and Daredevil over the years… but The Punisher doesn't really work with anyone. Sure, it's a guy named Frank Castle with a machine gun, but it's not really The Punisher. The Punisher works alone; he sits in a grimy apartment or in some van with a pile of guns and a list of names – a lot of those names are crossed out already, but names – and when he's gone, you only know he was there from the pile of corpses and shell casings. You certainly don't find Frank Castle's name on some government paycheck dated any later than 1969.
Greg Rucka knew how The Punisher was supposed to be, and that's part of why he left his run on the book. And it's been a while since we've seen that version of The Punisher… but we've got a short dose of it now.
The Trial of The Punisher #1, written by Marc Guggenheim with art by Leinil Yu, is The Punisher that I've been missing for a while. Not that this team has Punisher running around in a skull shirt smoking bad guys, but instead they have him in lockup, awaiting trial for the murder of an Assistant District Attorney, with criminals all around him and not a single teammate in a red and black spandex costume in sight.
And it is more refreshing than I thought it was gonna be.
↓ Read the rest of this entry…