on
November 3, 2013
at
10:13 pm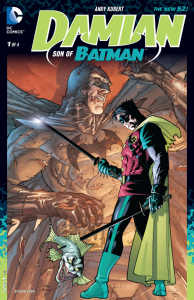 Editor's Note: Don't overlook anything. Spoilers will be hard to find in this amount of carnage.
I don't think I've made it a secret over the years that I was never a fan of Damian Wayne. He was a mouthy douchebag who was designed to irritate, and usually delivered. He was a ten-year-old in all the worst senses of the word: impulsive, opinionated for no good reason, and often disrespectful to his family… and any person with the unmitigated gall to be disrespectful of The Goddamned Batman? He and I can never be friends. So I didn't shed too many tears when his creator, Grant Morrison, had him whacked a few months ago.
The thing is that Damian was that much of an irritant as a ten (or so) year old, and everyone knows if you want someone truly insufferable, you need yourself a teenager. That's when kids take their original irritating personalities and add moodiness, mopeyness and just general emo. They start listening to Joy Division (or whatever the 21 Century version of Joy Division is; I'm old and picked all my bands years ago. Do kids go through a Doors phase anymore? Or are they truly fucking hopeless and deserving of being written off? No, I don't have children, why do you ask?), and they cut their hair all funny and they yell stuff like, "You're not my real dad!" and "No I won't get in your fucking van!" and "Who the fuck are The Doors?"
But Damian was safely killed before he could hit those difficult years… which clearly disappointed writer / artist Andy Kubert, because in his new book Damian: Son of Batman, he gives us not only a teenaged Damian, but one with a marked lack of adult supervision. And while that story is generally beautifully illustrated, it is also a little exposition heavy where it's not needed, exposition light where it really is needed, and retracts an important plot conceit almost as soon as it's introduced.
↓ Read the rest of this entry…