on
January 27, 2014
at
8:44 pm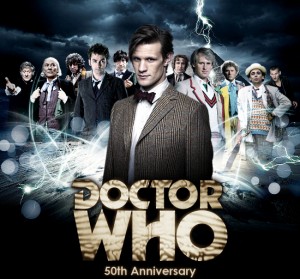 The BBC is trying like hell to keep fan interest in Doctor Who up now that the 50th Anniversary festivities are over, as if for some reason the idea of a brand new Doctor portrayed by an actor with a completely different look and style wasn't enough to keep people intrigued. But then again, maybe they've got a point; after all, on some level the franchise has reached its current level of popularity partially on the back of a quirky pretty boy who's made two companions and a large percentage of the viewing audience all twitchy in the shorts for him, so I imagine it takes a certain leap of faith to hand everything over to a late middle-aged dude best known for creative profanity.
Part of the mystery has been exactly what Capaldi's new Doctor will be wearing. Many of the Doctors have distinctive costume elements – Tom Baker's scarf, Matt Smith's bowtie, Christopher Eccleston's big, swinging dick (Yeah, Eccleston's my Doctor. What's your point?) – that define the character, since apparently "Time And Relative Dimension Through Space" leaves no room for a fucking washing machine or a closet, or the ability to groan itself into existence anywhere near an Urban Outfitters.
Well, that part of the mystery is over, as the BBC revealed Capaldi's Doctor costume today. So you might be asking: what's the gimmick? Purple socks? A pocket watch? Hipster douchebag fedora?
Nah. It's dressing mostly like a fucking adult.
↓ Read the rest of this entry…