on
August 7, 2013
at
10:38 pm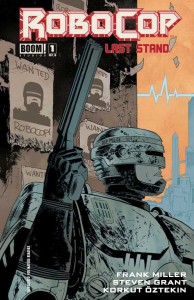 Robocop is awesome. Sure, there are a lot of questionable moments in the franchise, like parts of Robocop 2… and all of Robocop 3… plus the entirety of the Robocop animated series… not to mention every instant of the live-action Robocop TV series that was created to keep Orion Pictures from being sold for corporate parts in the mid 90s… but that original Paul Verhoeven flick? I can watch that all day.
Frank Miller, too, is awesome… or at least he was once. Sure, there have been a lot of questionable moments, like Holy Terror… and his film adaptation of Will Eisner's The Spirit… and whenever he goes anywhere near a device that has an Ethernet port… but all those stories like The Dark Knight Returns, and Give Me Liberty, and Batman: Year One? Miller in the late 80s, early 90s, I can read all day.
Now, Miller famously wrote the original screenplays for Robocop 2 and Robocop 3 in the late 80s, before various studio executives and directors ripped the things apart to turn them into the respective okay and awful movies they became. And for a long time through the 90s, those screenplays were kind of legends in the comics world: Miller, working when he was at the top of his game, on a genre franchise that exploded into a classic right out of the gate.
Almost ten years ago, Avatar Press released an adaptation of Miller's Robocop 2 screenplay, with a comic script by Two Guns writer Steven Grant, that was pretty solid as I recall, and was a hell of a lot darker than the actual movie. But that still left Miller's Robocop 3 screenplay floating around out there. And in the meantime, Dynamite Comics got their hands on the Robocop license and put out some books that, frankly, made Robocop 2 look like Godfather 2.
However, the license has now moved to Boom Studios, who has put the band back together with Robocop: Last Stand, an adaptation of Miller's Robocop 3 screenplay again adapted to comics by Steven Grant. So we've got an 80s Robocop story based on an 80s story by Frank Miller. On paper, it's everything I ever wanted when I was 20 years old… but the question is: is it a classic like I always hoped? Or is it another wretchedly disappointing Robocop comic like every one I've read since we started this Web site?
The answer is… neither, really. But it is pretty damn good
↓ Read the rest of this entry…