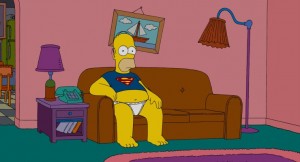 Wow, did you see that Super Bowl the other night? Didn't you think it was amazing when the New England Patriots came from behind to defeat the Atlanta Falcons, after being behind for the entire game? Didn't you think it was amazing?
Yeah, neither did we. Or at least, Neither did Rob. Because, like a technical genius, he decided to upgrade this Web site literally nine minutes before kickoff. And, being Rob, he fucked it all up.
So he spent a large part of Super Bowl Sunday just getting the site to work again. And a large part of Super Bowl Hangover Monday making it so podcasts would have their feed again. And a small part of Let's Pretend To Be Sick At Work So We Can Attend The Patriots Rally In Boston Tuesday making sure that new podcasts would be added to the feed when they were put "on the air."
And all of that seems to be working… but it meant that we had no time to actually prepare for an actual podcast this week, let alone have a place in which we could broadcast it.
However: we will be back on Monday with a new show, mostly complaining about the new DC / Warner Bros. show Powerless,