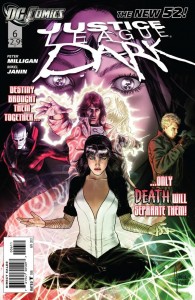 EDITOR'S NOTE: This review contains spoilers, and saying that backwards won't make them go away.
We're six issues into Justice League Dark now, and Peter Milligan is finally putting the actual team (mostly) together after an interminable rampup of what seemed like dozens of tiny solo adventures of the DC Universe's most Vertigo-like heroes… just in time for a forced crossover with I, Vampire and Milligan leaving the book. Thanks a lot, Pete. Your timing sucks.
At the end of the last issue, we finally had Constantine, Deadman, Shade, Zatanna et al in one place… just in time for each of them to say, "Fuck you, Charlie" (Or in Zatanna's case, "Eilrahc, uoy kcuf") and disperse to the four winds. And now they're all having nightmares; Constantine dreams of London on fire and it being his fault. Zatanna dreams of monsters putting fingers in her mouth (Meaning that, based on finger placement, her definition of nightmare has a lower threshold than mine). Deadman dreams that Dove is dead, unlike most comic fans who have been praying that Hawk would also take the dirtnap.