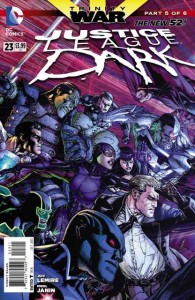 Comic crossover events are built on a tight timeline. Because of all the various comic titles that are involved in any big event, everything needs to go off like clockwork. Because when it doesn't, it throws all the other titles involved into a scheduling nightmare, and that could really fuck up their ability to tell a coherent story… not to mention fuck up their ability to get their shit together in time for the next event story that is inevitably hammering down the pike.
So sometimes an issue needs to move a lot of plot and characters around quickly, to make sure everything is in place for the next issue in the story pipeline. And Justice League Dark #23, the penultimate chapter of DC's Trinity War crossover, is one of those books. Writer Jeff Lemire and artist Mikel Janin have just 24 pages to get characters from the House of Mystery, Washington D. C., New York City and other parts unknown all together to deal with Pandora's Box and face down whoever the dapper gentleman running the Secret Society happens to be, all so the players and pieces are in place for the finale in next week's Justice League.
The good news is that they do it with a fair amount of action, pitting heavy hitters against lower-level heroes, with everyone in sight being affected by the corrupting influence of Pandora's Box. The bad news is that they make a lot of these moves based on forced coincidences, characters popping up from out of nowhere at just the right time, and a serious over-reliance on Zatanna and her backwards Pig Latin magic.
The result is an exciting story, but as befitting a story with magic at its core, one where you can see The Man Behind The Curtain. Characters don't move in this comic. They are pushed.