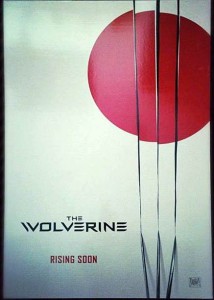 A. J. Mester has tweeted this image of a theoretical poster from the next installment in the Wolverine franchise of X-Movies. According to Screen Rant, who write,
The Wolverine has had a bit of a bumpy development road with some slight delays due to the weather situation in Japan, compounded by director Darren Aronofsky dropping out of the project for personal reasons.

With James Mangold (3:10 to Yuma) now set to helm the feature based on Christopher McQuarrie and Mark Bomback's adaptation of the classic Chris Claremont and Frank Miller's 1982 story arc in the Wolverine comics, production is on the right track with a solid release date locked down for next summer.

It is from Mangold's offices where our first look at The Wolverine may have leaked through an Instagram photo which we've straightened out for a clearer image. Check out what may be the first teaser poster for The Wolverine, featuring the Japan flag in the background being sliced by Wolverine's claws.
Is it for real? Who knows. Does it get you excited for the next movie? Maybe. If you're me, you really like the Claremont/Miller trade and hate the way they fucked up Deadpool in the last movie, so, you're proceeding with caution.
And, if you're me, you're hung over and have to go to that filthy day job that pays the bills. So, that's enough of that.
The Wolverine drops in US theaters on July 26, 2013.