The Crow Said Don't Look: The Crow #1 and #2 Review
on
August 16, 2012
at
8:39 am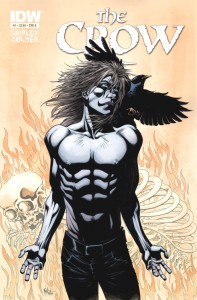 Having read the first two issues in the latest in a 20-plus year long line of comic books with the title The Crow, I find it ironic that the original book was about a soul that could not rest until he found justice… or at least revenge.
The original Crow miniseries by James O'Barr is a personal favorite, and the 1992 Tundra Publishing reprints of the original Caliber Press printings are prized possessions in my collection. It is a personal favorite because it is simple, and it is self-contained: a dude in the wrong place at the wrong time gets killed along with his girlfriend for no reason at all, and he somehow returns from the grave to kill the gang who killed them. That's it. Who is the guy? Doesn't matter, to the point where O'Barr doesn't even tell us his last name ("Draven" only came about in the 1994 movie, that felt it needed to shoehorn in unnecessary backstory for the straights in the theaters). Why is he killed? Just some random violence from some random junkies; could've been anyone, anywhere. Why does he come back? His love for his girl is just that strong, brother. It was simple, and it was emotional, it was powerful… and then it was done.
It was everything that this new comic version of The Crow is not.
Meet Detroit native Jamie Osterberg, living in Japan with his fiancee Haruko Tatsumi. He's a student, she works at a medical technology company. They are desperately, tragically in love. So out of the gate, writer John Shirley hits the basic ingredients of the original Crow, which means it is inevitable that this couple will be taken apart by some random act of violence. You know, like when the elderly CEO of Haruko's employer uses new, untested technology to rip Haruko's soul from her body, so the CEO can take it over.
Wait, what?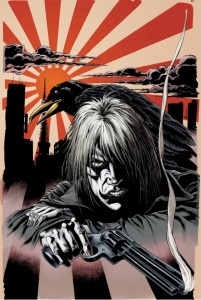 Yeah, in a nutshell this is a cyberpunk story about rich people stealing the bodies of unsuspecting young people to maintain an immortal hold on wealth and power, including an organized crime element of Yakuza enforcers and drug trafficking. It also has The Crow.
Look, this is not an awful story by any means, although it's a little tired as cyberpunk stories go. Stories about biotechnology used for nefarious means by high-ranking Japanese corporations that include personality transfers and massive corruption aren't a new trope of the genre; if you're read William Gibson's Burning Chrome or even looked at the jacket copy of Bruce Sterling's Schismatrix or Holy Fire, you're familiar with a story very similar to this one. But what it is not is a Crow story. Where the original story was wrapped in mystery and senseless tragedy, here we get a massive conspiracy, out-of-this-world technology, and an attempt to justify the presence of The Crow with kabuki and Eastern myth. The Crow is a simple, street-level story, and to jack up the scope into big corporate science fiction just doesn't work for me.
In addition, this book is just chock-full of clunky dialogue that make it very difficult to get into. I can buy a certain amount of stilted English in a book taking place in a country where English is a second language, but not from the actual American characters. We've got lines here like:
I want the truth! My sword demands truth!
…and:
Play with me instead. Death is sweeter than sex.
Really? What the fuck is that from, your letter to Asian Goth Penthouse? Look, I get that writer John Shirley is trying to ape the darkly humorous one-liners from the original book, but these ain't them. Even ignoring those kind of missteps, most of the characters here talk in exposition. The people behind the conspiracy talk in Supervillain Explain My Master Plan speeches, and there is a sequence in the first issue where one of the bad guys explains that he's going to intercept a call, then we see him intercept the call, and then another character explains that someone probably intercepted the call. It's just stilted and overwritten, in all the ways that the original Crow wasn't.
The art by Kevin Colden isn't a bad match for a Crow story. He has a loose, smudgy style, with sketchy lines and a level of abstractness that match the moodiness that should appear in a story like The Crow. His action sequences are pretty clear and appropriately violent for a Crow story, and his panel layout is pretty simple to follow. Colden is committed to making all characters easily recognizable… to the point where he has Jamie wear glasses and have his shoulder-length hear unties during sex, which I can say with some authority is a recipe for fucking disaster.
In short, this new series of The Crow is a misfire. The Crow as it was originally written worked by being a cripplingly simple and emotional story, with a protagonist that could be really any 20-something guy whose heart has been broken. Here, however, we have a plot-heavy science fiction story that seems to include The Crow because someone was willing to pay for a story that included The Crow. If the original story was about undying love, this one is about loving the dead. And here at Crisis On Infinite Midlives, we don't truck with no necrophilia.
Break out your trade paperback of the original, and give this reboot a pass.