on
September 12, 2013
at
8:37 pm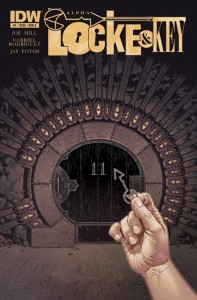 Editor's Note: Cthulhu Fthagn! Ph'nglui spoilers Cthulhu R'lyeh wgah'nagl fhtagn!
Basically, I see your crazy and raise. It's the only way to live.

- Tyler Locke
And with that line, if nothing else, Locke & Key: Alpha #1 has finally settled the question as to what I want engraved on my tombstone.
I opened with that line because I'm finding it hard to review the actual comic book. First of all, this thing is a monster – 32 pages, not counting the "special features" toward the end of the issue – with battles and conflicts happening in about four different places with interchanging teams of characters fighting different threats at varying times.
Second, it's a hard single issue to summarize. We jump back and forth between the characters, each of which is in a different form of mortal danger at least once, and many of them don't make it through the issue. The nature of the threats to the characters changes from demons to torture to taunting to thrown rocks, so there's no simple throughline to follow to keep track of everything so it can be described concisely for people who might be looking for reviews to decide if they want to try the book or not.
Further, this just doesn't scan like your average superhero comic book. Throughout the issue, we see villain Dodge using a variety of escalating levels of magic to try to enforce his will. But instead of your normal comic, where the heroes meet that power with more power, they generally resist by simple human means of courage and love and persistence, leading to almost the opposite of a standard comic book climax, where the action grows smaller and simpler and more intimate toward the conclusion.
And finally, this issue doesn't end like your normal superhero comic. Because for all the violence and power displayed, this issue concludes with a simple grapple between the villain and an ancillary character. And unlike in your standard comic, writer Joe Hill and artist Gabriel Rodriguez give us a conclusion that makes a hard distinction between the bad guys losing and the good guys actually winning.
So I've struggled to decide how to write about this issue. So we'll go with this to start: if you have been following Locke & Key, this is a spectacular ending (yeah, there's one more issue, but based on this one, it looks like it's gonna be a simple denouement) that pays off on just about tease and promise that has been made to the reader leading up to this moment. And if you have not been reading Locke & Key? Well, start with the trades and give this one a wide berth until you're up to speed.
↓ Read the rest of this entry…