Re-Reboot: Justice League International Annual #1 Review
on
August 31, 2012
at
6:10 pm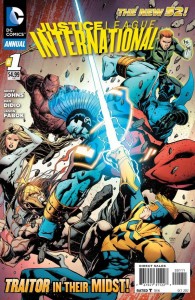 EDITOR'S NOTE: One spoiler! One spoiler!
I've got mixed feelings about Justice League International Annual #1 which is the final chapter of the book and which depicts the dissolution of the team. It has a lot going for it, including the return of writer Geoff Johns to the character of Booster Gold for the first time since 2008, and Dan DiDio's return to writing O.M.A.C., which was one of the most underrated and unfairly cancelled books of the New 52 relaunch. It ends the story of the team decisively and fairly satisfyingly, if suddenly, and spins Booster, Blue Beetle and O.M.A.C. into new directions that could prove interestingly in the future… or in the case of Booster, in his past.
The problem is, the issue does it, in several cases, by introducing sudden and drastic changes in a couple of characters' motivations and personalities, at least in relation to how they were depicted in recent issues of Justice League International. Which makes a certain amount of sense – you switch writers, you get new interpretations… or in the case of Booster, old interpretations. There is a sense in this issue of Johns and DiDio sweeping in to conclude the book and reclaim their characters, all while muttering, "No, no, no… Goddammit Dan Jurgens, you're doing it wrong!"
This issue starts with the JLI trying – and failing – to bring the dictator of some shitsplat Third World toilet to justice, before returning to the Hall of Justice to find Booster promising that the real Justice League is on their way to meet the JLI's newest members: The Olympian and Blue Beetle. And, befitting all members of JLI, both pre- and post- DC reboot, they are joining the team for ulterior motives. But regardless, they are joining the team on the cusp of what Booster swears, what with his knowledge of the future, will be the mission that puts the team on the map for good… just before O.M.A.C. gets new orders from Brother Eye and completely loses his shit.
The real positive in the issue is the return of Johns to Booster and DiDio to O.M.A.C. DiDio gets the chance to pull the character out of what appeared at the time of the character's solo book's cancellation to give him a long-term mission as an apparent antagonist for the DC Universe. I don't know if this was always the plan for the character – O.M.A.C.'s solo book tended to be more of a punch-up of the month in a location of the month, played for fun more than for any apparent long-term plot development, but since DiDio said at SDCC this year that part of why he took co-writing duties on the book was to bring his vision for O.M.A.C. to fruition, I guess the character's hissy fit was on purpose. Besides, I had a soft spot for the character when he was in his own book, so it's good to see him, however briefly, back in that writer's hands.
Even better is to see Geoff Johns writing Booster, and putting him back into the role of time-traveling superhero working with Rip Hunter, as he wrote the character in his solo book before the New 52. This isn't cool just because it puts the character back into stories that I personally liked, but the implication is that we're seeing an alternate Booster from before the Flashpoint event, trying to influence current events. Which is a potentially interesting point for future stories; DC has spent so much time hammering on the new continuity that I really didn't think anyone would try to loop back pre-reboot continuity into current stories… or at least that they wouldn't until the sales tanked. Don't get me wrong; if they handle this wrong, things could go completely sideways… but if they're even remotely thinking about doing this thing? Two words, bitches: Ambush Bug. That is all.
The negative is that everything feels really abrupt. That is somewhat to be expected; the book was cancelled relatively prematurely, which meant they needed to shoehorn in whatever they felt they needed to in one shot… but because of that, a lot of it really didn't feel organic. Since the reboot, Booster has been portrayed as a glory hound and a fame whore, but I don't recall seeing him as a delusional Justice League fanboy wanna-be. The transition of O.M.A.C. from tragic victim to reprogrammed rage monster takes place literally in one panel, and why even introduce Blue Beetle as a member of the team just to boom tube him into deep space? Did anyone tell Tony Bedard? Because it seems to me he was doing other shit in Beetle's own title. The abrupt change in some of the characterizations really make a lot of the book feel like the big boys swooped in to fix things… when nothing was necessarily broken. Justice League International hasn't been the brightest book on our radar, but between the recent announcement of Justice League of America and DiDio and Johns coming in to push "their" characters in new directions, I can't help but get the feeling that regular writer Dan Jurgens kinda got the shit end of the stick, in favor of new plans by the front office.
The standout of the issue to me was the art by Jason Fabok, a dude with whom I wasn't previously familiar. He has a fine-lined style that is highly detailed, while generally avoiding the wretched over-inked crosshatched "effects" that plague many other artists with similar styles. He does a good range of body types – O.M.A.C. is solid and huge, while Beetle is appropriately skinnier and more adolescent-looking. His panel layout is basic – generally variations on four page-wide panels on each page – but that makes it simple to follow, and he changes it up somewhat when pacing requires it. If I have a nitpick, it's a storytelling issue – when the dictator the JLI goes after blows himself up rather than be taken alive, Batwing and the rest of the team seem surprised by the move… even though Fabok shows the dude with a giant, obvious dynamite belt from the moment we first see him. It's a little distracting… but there are worse distractions in the world (and even in the book: hey Geoff Johns! Learn the difference between "upload" and "download!"). On the whole, I really liked Fabok's style, and I'm looking forward to seeing his stuff on Detective Comics.
If I need to make a buy / don't buy verdict on the book, I'm gonna say it's worth checking out ; we have guys working on characters they clearly have affinity for, and there's enough action and solid art to make it worth the five bucks. However, if you've been reading Justice League International since the beginning, you should be aware that you're gonna find some serious changes in some of the characters. These changes aren't for the worse, but between that and the sudden dissolution of the team, that isn't gonna feel like the book you know. At the very least, it's worth checking out to see some more of what's coming in the second year of the New 52. Which means it's two DC books this week that are as much setup as they are punchline…  and if we can believe Booster, what they're setting up for New 52 Year 2 is coming straight from Crisis On Infinite Earths Year 25.