The Fantabulous Adventures Of A Couple Of Dandy Fops: Steed and Mrs. Peel #0 Review
on
September 3, 2012
at
9:19 pm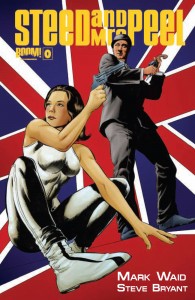 For the second time in as many days, I am opening a comic book and diving into a mythology I know absolutely nothing about. I've never seen the British TV show The Avengers, I never saw the movie with Ralph Fiennes and Sean Connery, and I never read the Grant Morrison Steed and Mrs. Peel miniseries from back in the 80s. All I know about the British Avengers is that it is about super spies in the 60s, and apparently Diana Rigg used to wear a leather catsuit that made men out of every straight male genre fan older than me who isn't already dead. Which I can understand, but as a child of the 80s with access to Skinemax, I never felt the need hunt up reruns on PBS to dive in and see for myself.
So I can't address whether or not Boom Studio's Steed and Mrs. Peel, by writer Mark Waid and drawn by Steve Bryant, is true to the original TV series or the movie or some purely theoretical Stud and Mrs. Kneel porn parody or anything else. I can say that, having seen similar shows like The Prisoner and Department S (of all things), Waid and Bryant capture the general feel of British television shows from the 60s and 70s, including wildly optimistic visions of the future, cheapjack-looking "special effects", and about 50 percent more Nehru jackets than a 21st century man should have to contemplate.
So it feels authentic enough… but is it any good? Well, that all depends on if you actually like that sort of thing.
Steed and Mrs. Peel opens with some dude named Whitcomb (I don't know if he's actually a member of The Avengers continuity or not) waking up, apparently suddenly aged, being told that he is in the far future: the year 2000. You can tell it's the year 2000 by the flying cars, the giant teletype-spitting "computing machine," and the goggles that we all wear all over the place. Anyway, Whitcomb takes a bullet and gets dumped at an amusement park, and with a shout of "Mrs. Peel! We're needed!" (which apparently is a thing in the history of The Avengers), Steed and Peel start an investigation that begins with the scent of cheap cologne, moves through a "robot" that could have come straight from early Dr. Who's special effects geniuses, and steps up to a guy with a scythe and premature aging powder, and ends with a cunning ruse cut down by underpants elastic. Let's just say that, as realistic espionage stories go, Greg Rucka and Queen and Country don't have a hell of a lot to worry about… but then again, this isn't meant to be a realistic espionage story for anyone who doesn't use mescaline.
Look: this story is more the serious side of something that Austin Powers is based on than any kind of real spy story. The setting is pure Austin Powers – the issue even closes on a big 60s-style psychedelic party, for God's sake. But that's what it's supposed to be; there's no reason to resurrect characters from the mid-60s and stick them into the modern world unless you're looking to turn it into a broad comedy that will hamstring your career and leave you only the choice between voicing a goofy troll for children or working the glory hole at the bus station men's room.
The whole feel of the issue is authentic enough; it really calls back to a cheaply-made British spy show from the 60s. The only question is whether you actually like that sort of thing. The dialogue between Steed and Peel is loaded with clever British witticisms – you're not likely to get dialogue like, "Oh, no pinchpenny he. But, it must be stressed, the honourable John Cleverly Cartney did incline sharply toward the vulgar…" in a Hulk comic – which I imagine must call back to the writing from the original series, and the whole scam to convince secret agents to spit out their secrets by aping a fake future scene just reeks of an old BBC show with a special effects budget of about ten pounds sterling.  So it has the right feel if you like that sort of thing… but it's really not mine.
And therein lies the problem. Because while I can recognize that there is clearly real love and respect for the source material here, it's not enough to make me really engaged in it. I can read it and respect the effort that went into it, but as someone with no preexisting affinity for the characters or the world of Steed and Mrs. Peel, it didn't do much to get me excited about it. Sure, there's a certain amount of retro charm in seeing a "master criminal" pretending to be from the future by slapping Buck Rogers fins on the barrel of a Walther, but the throwback feel wasn't enough to really engage me. It's like being told a detailed and engaging story about the depression from a buddy's grandfather; it might be a hell of a story… but if you don't love him already, it's hard to give too much of a fuck.
The art by Steve Bryant, unfortunately, isn't particularly to my liking. There's nothing particularly wrong with it; his panel layout is simple to follow, his pacing is fine, and he breaks up his backgrounds interestingly, but he falls into a trap that many artists who do books based on TV or movies do: he seems to be trying too hard to mimic the actual actors, which has a tendency to skew how the characters look. We've got more than one panel where characters' eyes are too close together, or looking in different directions, or so skewed that in some panels, Mrs. Peel looks like she's about to snap out her tongue and gobble down a fly. Which shouldn't be an indictment of Bryant as an artist generally; trying to draw real people from photo reference can cause that kind of effect. I've been noticing the effect from as far back as Howard Chaykin on Star Wars, and Chaykin's one of the best in the business… but that doesn't mean it's not distracting.
Overall, this has been a weird review to write, because I think that Steed and Mrs. Peel is effective at what it's trying to do; it clearly respects the concept of a 60s spy show, and is committed to reproducing the experience of those shows. The problem is that I don't give a fuck about those shows. And while I get the reverence for the source material that this comic is trying to show, it wasn't effective at transmitting that enthusiasm to me. Look at it this way –  if someone bought you tickets to an opera performed by a master troupe, you'd have one of two reactions: you'd either be excited because you already are an opera enthusiast, or you'd be bummed because no matter how well it was performed, you just don't like the opera.
I don't like the opera. If you do, grab Steed and Mrs. Peel. If not? Well, Queen & Country is available in trade paperback.