New Kid In Town: Talon #1 Review
on
October 27, 2012
at
2:45 pm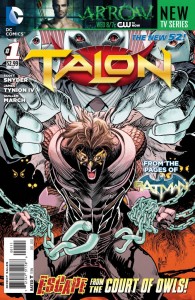 I don't know a lot about magic beyond getting hammered and watching my Penn & Teller: Bullshit DVDs, but even with my limited background, I question whether or not Talon #1 writer James Tynion IV knows exactly what an escape artist actually does. If Harry Houdini could do the things that title character Calvin Rose is capable of, we would never have had a Second World War because the first time they drew the curtain on him in the Chinese Water Torture in New York, they would have reopened it three minutes later to discover Houdini in a dry tuxedo, standing outside a tank containing an adolescent Adolf Hitler, clawing frantically at the glass.
Seriously, if any magician could do what Talon does, they would not be performing for screeching children at rotten birthday parties except maybe as a front for their lucrative paid assassination careers. Penn and Teller would not be doing a residency at the Rio Casino in Vegas, as they would be too busy robbing its vault empty on a nightly fucking basis. This, however is not a bad thing, for a few reasons, the first being that a comic book about a guy tensing his wrists to provide slack to eventually escape handcuffs would be boring, particularly after he was shot in the face as soon as the handcuffs were locked. And second, because Tynion is using the escape artist / magician hook to show some action presented in a real clever way, and to present a protagonist who, at least so far, isn't concerned with beating the bad guy, but beating the bad guy so he can get away.
So we've got a clearly unrealistic escape artist protagonist who fights only to escape, but still, one who acts in a kinda cool and interesting way, and has a tendency to mouth off and sometimes panic and run while he's fighting. So does that make for a good and entertaining comic book?
Talon #1 opens with renegade Talon Calvin Rose (And yes, each time I have tried to write his name so far, I have had to backspace over "Hunter Rose") returning to Gotham after having learned that the Court of Owls is in retrograde after having their asses thoroughly kicked by Batman. Rose is hoping to find that the Court has dissolved to the point where he is no longer on their radar… only to find one of the newer, nigh-invulnerable (Spoon!) female Talons lying in wait and ready to give him the shank. Following that dust-up, Rose is tended to by an old man with a secret lair, a terrible secret and a private, hidden book he wants Rose to look at. Then, after they drink wine, play XBox and wrestle for a while… whoops! Wrong story. I meant, after the old gentleman describes his plan to dismantle the Court, he tries to convince Rose to use his training to take them on head on.
In a nutshell, this is an origin issue… the second one in a row. As such, it has a certain amount of heavy lifting that mist be done in order for it to be successful: it needs to put Rose back in Gotham City, it needs to demonstrate that the Court of Owls remains a force to be reckoned with (no small task, considering we just spent four months watching Batman kick the shit out of them), and it needs to shift Rose's priorities from escape to attacking the Court, lest this book turn into some weird version of the TV show The Incredible Hulk, but instead of turning into a monster every week, he finds himself trapped in a milk can for some reason.
Generally, Tynion manages to accomplish all this exposition while still keeping the book packed with action and suspense – hell, Rose doesn't come back into Gotham on a midnight Greyhound under a hoodie and an assumed name; the son of a bitch paraglides in off a blimp in a fucking wing suit. He discovers that the Court still wants to kill him by having a Talon try to fucking kill him. And the action that we see embraces the conceit that Talon is an inventive escape artist by having him do clever tricks with monofiliment wire, pickpocketing, and improvised tools just around his environment. It's clever and interesting, and elevates the action to make it feel cool and above average.
The one downside to the story is the four pages where the old guy explains who he is and why he wants Rose's help. The exposition up until that point is presented with brisk and entertaining action, which makes a dialogue-heavy walk-and-talk kind of stick out. Sure, it's not reasonable to expect an issue to be wall-to-wall action, but it did slow things down. However, the slowdown doesn't derail the issue… although with the look on old guy Sebastian Clark's face in a couple of panels of that exposition, I'm not sure I'd follow him anywhere other than a voluntary 90-day commitment hearing, let alone his secret basement full of surgical equipment and secret literature.
Guillem March's art on this book continues to impress me, and I'll grant that a lot of the reason for that is that most of my exposure to his work was his cheesecakey stuff, where it felt like half the panels existed to find a way to show me new angles of ass. Here, he uses the same degree of detail he uses to give fanboys boners, except on pure superhero action, with attractive figures (except for Sebastian Clark, but we'll get to that) and extremely expressive faces, with a high degree of detail. March breaks up his panel presentation, from relatively simple grid layouts for the more talky, expositional stuff, to a more jagged and irregular layout for the action scenes, which accentuates the chaos, but things never get confusing. March does go over the top in a couple of places – he does fall to his obvious predilections by giving us one sweet crotch shot of the female Talon, and there are panels of Clark that look as if he's trying to chase Jehovah's Witnesses off his lawn while being branded on his prostate, all in the throes of a massive and debilitating stroke – but generally this is just highly-detailed, good looking art.
On the whole, Talon #1 is an effective origin issue, albeit a second origin issue. It lays down the groundwork for putting the protagonist on his mission in the required setting, all while generally keeping the exposition light and entertaining through some cool and engaging action,with a clever bend behind it. And while I think we all know that the type of person enthralled by escape artistry probably wouldn't be all that formidable in the real world – remember the fat kid with the armload of magic books in grade school? The one who got beat up by slightly less fat kids? Yeah, I don't think he's gonna grow up to be a ninja. But still, while I was initially concerned, while reading Talon #0 last month, that the escape artist gag wouldn't hold up, it seems Tynion is using it loosely enough to just keep the protagonist's methodologies interesting. All in all, this is a damn solid kickoff to the new title. It's worth checking out.