on
April 25, 2013
at
8:55 pm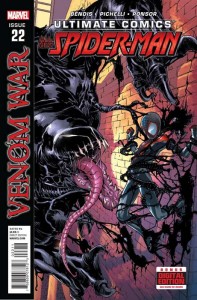 Editor's Note: Bitten by a stolen, genetically-altered spoiler that have him incredible, arachnid-like powers… to irritate people.
Finally, we're getting somewhere.
Between the slow and decompressed start of Ultimate Comics Spider-Man back in late 2011 and the leisurely dealing with Miles's uncle the douchebag cat burglar and the unfortunate and misguided intervention of the whole United We Stand crossover across the entire Ultimate Comics line, it has felt like there has been something missing from Miles's story. That thing being a real and clear motivation for his being Spider-Man.
Sure, we got the ephemeral sense that Miles understands that his power arose from his uncle's bad acts, and that he feels a responsibility and sense of awe toward the legacy and reputation of Peter Parker… plus that, you know, he gets a kick out of being Spider-Man. But there has never been a simple, bright-line-in-the-sand motivation for him to actually be Spider-Man in the way that other superheroes have. You know, Parents Killed In Front Of Him, or On A Mission Of Peace From Themyscira. Or, you know, Let The Man Who Killed His Uncle Go Free.
Well, 19 months in, we finally have a moment that fits the bill. Ultimate Comics Spider-Man #22 closes out with a gutpunch of a moment that meets all the emotional criteria for someone to, beyond all reason, pull on a pair of spandex pants and not only go out in public wearing them, but wear them battling criminals and monsters. It is emotional, it is effective… and it is a credit to writer Brian Michael Bendis that the moment is not a simple, "Now I shall become a $ANIMAL!" point of departure for a standard, if well belated, origin story.
↓ Read the rest of this entry…