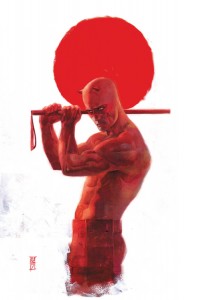 Editor's Note: I've been there for a lot of people's last words. And every time it's the one thing they spoiled about the most.
Mapone is not a thing.
I have, as I'm sure a lot of people have since Daredevil: End of Days began several months ago, Googled the living shit out of the word "Mapone." And there is nothing there; there is some family out of Italy, a Fleetwood Mac fan on YouTube, some promotional trinkets company in South Africa… and since October, a bunch of reviews of Daredevil: End of Days. If you look for the definition of "Mapone," there isn't one. If you try contextual searches, you wind up with articles about Halo battle maps, mapping values in computer programs, and MAPI interfaces.
In short, "Mapone" is not, by any real definition, a word. It is, rather, a sound you make with your mouth. So as a mystery, writers Brian Michael Bendis and David Mack picked a good mysterious word to act as a throughline for the story… but Daredevil: End of Days #8 is the last issue of the miniseries, meaning that it is time for them to put up or shut up.
And they have put up. We learn the meaning of the word "Mapone" on the very last page of the issue, Citizen Kane-style. And the reveal is, in fact, a surprise, and it is, in fact, generally satisfying… until you close the book and stop and think about it for more than ten seconds.
So it is a really fortunate thing that this issue accomplishes so much beyond the silly little mystery, closing out a story that turns the legacy of Daredevil into a tragedy that is almost Shakespearean in scope, and which is implied to doom everyone it touches. Daredevil: End of Days #8 is a truly weighty and satisfying speculative end to the story of Matt Murdock, regardless of the whole "Mapone" mystery that has kept us going through this story. And that is a good thing.
Because Mapone is not a thing.