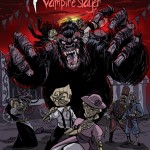 Editor's Note, 7/29/2013, 8:30 a.m.: Article updated with quotes from Pinocchio: Vampire Slayer writer Van Jensen, and we thank him for his comments.
In addition, we originally reported that original Pinocchio: Vampire Slayer publisher Slave Labor Graphics was publishing the omnibus. Instead, the publisher is Top Shelf Productions. We regret the error, and have updated the piece to reflect the changes.
It's been a little under about a year since the final chapter of Pinocchio: Vampire Slayer by writer Van Jensen and artist Dusty Higgins, Of Wood And Blood, was released in trade paperback and digital comics formats. And while that book was a blast, that seemed to be pretty much it. Trilogy completed, Jensen moved on to write Green Lantern Corps for DC Comics, and Higgins seems to be working on a children's book based on stories told to him by his daughter.
So that's it, right? All Jensen's and Higgins's Pinocchio stories told, correct?
Yeah, no. Apparently they have at least one more story left in them, if not more. Robot 6 is reporting that Slave Labor Graphics has announced that Jensen and Higgins are planning to release a short story prequel to the trilogy, based on that one panel in the original where they talk about Pinocchio fighting a vampire gorilla. Remember that?
Yeah, me neither (What do you want from me? I read it ten months ago). So here's the panel: