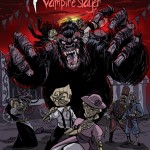 Editor's Note, 7/29/2013, 8:30 a.m.: Article updated with quotes from Pinocchio: Vampire Slayer writer Van Jensen, and we thank him for his comments.
In addition, we originally reported that original Pinocchio: Vampire Slayer publisher Slave Labor Graphics was publishing the omnibus. Instead, the publisher is Top Shelf Productions. We regret the error, and have updated the piece to reflect the changes.
It's been a little under about a year since the final chapter of Pinocchio: Vampire Slayer by writer Van Jensen and artist Dusty Higgins, Of Wood And Blood, was released in trade paperback and digital comics formats. And while that book was a blast, that seemed to be pretty much it. Trilogy completed, Jensen moved on to write Green Lantern Corps for DC Comics, and Higgins seems to be working on a children's book based on stories told to him by his daughter.
So that's it, right? All Jensen's and Higgins's Pinocchio stories told, correct?
Yeah, no. Apparently they have at least one more story left in them, if not more. Robot 6 is reporting that Slave Labor Graphics has announced that Jensen and Higgins are planning to release a short story prequel to the trilogy, based on that one panel in the original where they talk about Pinocchio fighting a vampire gorilla. Remember that?
Yeah, me neither (What do you want from me? I read it ten months ago). So here's the panel: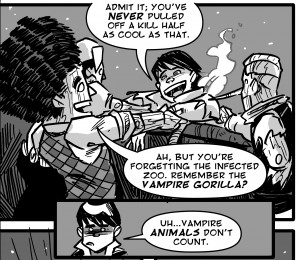 While the idea of a story of puppets fighting vampire apes sounds cool, don't get too antsy for it yet: Jensen said that while the book is planned out, the work hasn't been completed yet.
"We planned to do it earlier this summer and have it as a mini comic at conventions, but then we both got pretty busy (Dusty with freelance work, me with writing Green Lantern Corps)," Jensen said. "That said, the story is all outlined, and we'll be starting on it soon. It's one that we've been wanting to tell for a long time. Puppet slayers vs. vampire animals! How do you top that?"
And even better news is that this short story might not be the end of Pinocchio: Vampire Slayer. Jensen said that the story is a kind of trial balloon to see what kind of demand there might be for the continuing saga of a wisecracking puppet who lies to vampires in order to grow the weapon he uses to stab them to death.
"With the Vampire Zoo story, we're dipping a toe in the water to see if readers are interested in more new Pinocchio, Vampire Slayer tales," Jensen said. "We have quite a few saved up, and if the fan response is there, we'll definitely be sharing some more of Pinocchio's adventures."
There's no word as of yet as to how long the short story will be, or how it will be released – Slave Labor Graphics has been releasing stuff exclusively via digital for about a year, but since Pinocchio: Vampire Slayer is a known and popular property, a print release wouldn't be particularly surprising… and if I were to hazard a guess, the tale just might be included in the Pinocchio: Vampire Slayer omnibus volume that Slave Labor Graphics Top Shelf Productions announced is forthcoming in 2014.
"[Including the new story in the omnibus is] Definitely a possibility. We're still in the midst of finalizing plans for the omnibus, but we will have some original content in there, for sure," Jensen said.
Either way, this is welcome news. Pinocchio: Vampire Slayer was a damn fun run of comics, and it's gonna be good to see some more of them, even if it's just a short story. A release date hasn't yet been announced… but if I were you, I'd keep my eye on the Slave Labor Graphics Top Shelf Productions Web site or the Pinocchio: Vampire Slayer home page to find out when that onmibus is coming out.
"We're also just thrilled to have the Pinocchio, Vampire Slayer story all together in one place for the first time," Jensen said. "This was always planned as a single, epic adventure. And now fans can read it that way."
"We've known the Top Shelf Productions people for years, and I've even done a little behind-the-scenes work for them. They're some of the best people in comics, and they publish beautiful books," Jensen said. "So to get the chance to work with them after all of this time is a dream come true."
Besides, whether you're waiting for the omnibus or the short story, that site has a bunch of other cool stuff. Like the first art from the new story. Which you can also get, well, right here.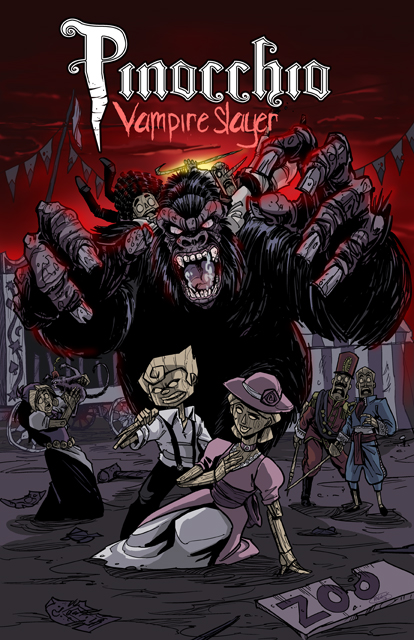 (via Robot 6 and the Pinocchio: Vampire Slayer Web site)