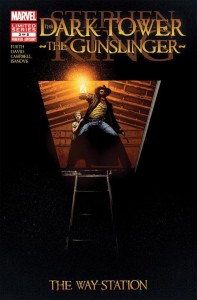 Like most guys who came of age during the 1980s, I grew up as a Stephen King freak. And like many of those guys, I was a Dark Tower fanatic, initially because you just couldn't get the Goddamned thing. The first Dark Tower book was listed in King's C.V. starting with Pet Sematary, but until 1988 it was only available in a long sold out limited edition that, provided you could even find a copy, would requiring beating off other like-minded fanboys to get it. Possibly literally.
But once it, and its sequels, started reaching the mass market, it hit the sweet spot for comic book fans. It was a fantasy, but not one about some other wimpy pretty boy with a magic sword. No, Roland was a bad motherfucker who was well-trained with a gun – medieval Batman with a sandalwood-handled .45. And as the series went on, it tied into King's other stories. And his other stories tied into the Dark Tower (which is one of the only redeeming reasons to read King's Insomnia). He built an entire, cohesive universe tied to the actions of Roland and his hunt for the Tower, turning his entire body of work into a continuity-laden universe. This shit was crack for a comics fan.
The Dark Tower series officially ended in 2004 (although King's dropping another book of short stories set in the Dark Tower world called The Wind Through The Keyhole later this year), but King kept feeding the fans' back monkeys by authorizing Marvel to produce Dark Tower comic books, which they've been doing since 2007. The initial pitch to stir up the rubes – including me – was that the comics miniseries would fill in gaps in the stories from the novels. And some of them, like The Fall of Gilead and Battle of Jericho Hill, have done just that. Unfortunately, others have just retreaded parts of the original novel in comic form as straight adaptations.
The current mini, The Way Station, is a straight adaptation. It's an adaptation of a part of the first Dark Tower book that takes place in and around one building, where a lot of the dialog is internal in nature. This isn't probably the best thing to try to make into a comic book.