on
March 27, 2014
at
8:40 pm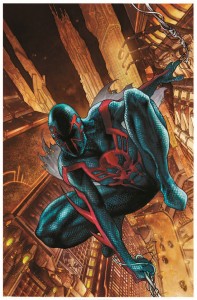 I didn't read Spider-Man 2099 when it first came out in 1992, for a few reasons. 1992 was the year Image Comics debuted and when The Death of Superman was released, so an alternate universe packed with what looked, at face value, like "X-Treme!" gimmick knockoffs meant to get us to buy two books with the same character every months, and God knows that only a savage would double-ship a character to make some extra bank. Besides, in 1992 I was a junior an college and only had money for six comics a week, or one comic a week and beer. I think we all know that I made the prudent and wise choice.
By the time I graduated and started having a few bucks in my pocket to buy more comics, Marvel was playing peek-a-boo with crippling bankruptcy, firing editors left and right, Peter David had left the book, and it seemed like my money would be better used on Vertigo books, or perhaps by chucking it into an open gutter.
So I wasn't particularly familiar with the character beyond the knowledge that his alter ego was Miguel O'Hara and he said "Shock!" a shitload for reasons I could never fucking understand. He's been an intriguing presence in the modern Marvel Universe by way of his appearances in The Superior Spider-Man, but not a big enough presence that I've really felt like I've gotten to know the character. Although he still says "shock!" an awful Goddamned fucking lot.
Well, that's gonna change come July, when Marvel is publishing a new Spider-Man 2099 standalone title, written by Peter David with art by Fearless Defenders artist Will Sliney.
↓ Read the rest of this entry…