Well, it's over now. DC's New 52 first issues have been replaced by all second issues… except for the new first issue.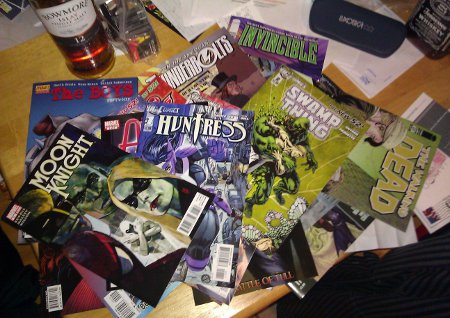 Yep, that's a new DC first issue of Huntress, which I'm sure was released due to popular demand for the character and because the story and art are exemplary, any not because it occurred to Dan DiDio that it might be nice if Robin also had someone to grudge fuck on a rooftop.
Also in this week's take are the latest issue of Garth Ennis's The Boys and Butcher, Baker, Candlestickmaker. We also got the new Walking Dead and Invincible from Robert Kirkman, along with Skullkickers, Brian Michael Bendis's Moon Knight, and a stack of the New 52 week one books we liked enough to keep covering through issue two.
And not only that, my local comic store owner, who knows me by name and asks me if he has to call me by my rap name (Spunkmaster Rhino P-P), threw in a bunch of free DC Comics promotional bags and boards, brightly printed with a reproduction of last month's Justice League #1! Meaning that at least five of this week's books will, over the course of years, leach that image onto their back covers thus rendering them utterly and completely worthless, which is a hell of a way to treat Action Comics #1… even when it's the one by Grant Morrison, which you could only retire under if you had 75 of them to make a blanket for your park bench.
So as always on Wednesday, Amanda and I need time to read these books so we can review them for you throughout the week. So thus endeth our broadcast day.
See you tomorrow, suckers!