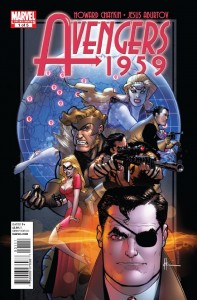 Since AMC's show Mad Men became a hit by turning mid-20th century nostalgia into a bankable commodity and by casting Vincent Kartheiser in his second role where I want to stomp his balls off, it was only a matter of time before the copycats started showing up. Much like Raiders of the Lost Ark begat Tales of the Gold Monkey and Bring 'Em Back Alive, this year Mad Men has given us the creatively leeched Pan Am and The Playboy Club… with pretty much the same predictable results.
And so what with Marvel Comics hoping to bring in new readers and not being fools (Because Marvel doesn't reboot! Marvel doesn't NEED to reboot to keep their number one market sh… wait, what?), Marvel's thrown their own hat in the Good-Old-Days ring with Avengers: 1959, apparently having missed the twin memos that the current trend is toward reliving the 1960's, and that the last go-round with 1950's nostalgia ended by jumping the shark. Literally.
Look: I've been around the block enough to know that the idea of a comics company sniffing for a bandwagon to jump on is hardly new. Let's face reality: if Roy Thomas hadn't snapped up Star Wars license, then Marvel would be the ones trying to pretend they hadn't released Star Hunters – a comic so bad they pulled the "kill the hero and bring him back with a new costume to save the book" trick 120 days after the book started. Being a realist I know that if Mad Men was about Christopher Street in New York, Marvel would be releasing Avengers: What Price Glory Hole? right now. So I won't try to hold the copycat feeling against this book.