on
October 28, 2013
at
9:23 pm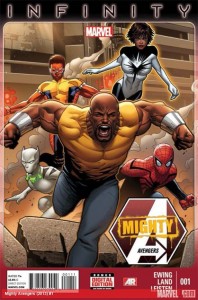 Editor's Note: This story contains spoilers for upcoming issues of Mighty Avengers. So if you're digging the mysteries that were presented in the first issue last month, please feel free to pretend that we are still upgrading our Web server, and that I am still shrieking impotently at our Web caching software, which apparently only accepts upgrading when it is convinced that you are who you say you are, and that game four of the World Series is safely past the third inning.
We really enjoyed the first issue of Mighty Avengers, written by Al Ewing with art by Greg Land. It was, unlike many recent Avengers titles, a more human, character-based story, with an interesting mystery at the code: who is the "muscular" and "intense" dude who has a history with Monica Rambeau and wears, at least for now, a rotten "Spider Hero" costume into battle?
There was a lot of speculation that it might turn out to be Miles Morales behind that mask, giving that character a place to go if the upcoming Ultimate Universe Cataclysm event does, as it appears it will, fuck all that Universe's holes and leave it for dead. But regardless, it was meant to be a fun little guessing game for a few months before Ewing pulled back the curtain sometime in the next few issues.
Yeah, I said that it was "meant to" be a mystery. Past tense. Because Marvel went and gave the whole thing away.
Another Editor's Note: Spoilers will follow after the jump. Last chance to bail, turn on the TV and watch the Red Sox show St. Louis how we do things in Boston…
↓ Read the rest of this entry…