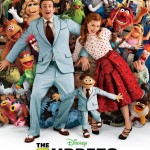 Over on The Mary Sue, they've been keeping track of all the various parody trailers that have been released this past year to promote The Muppets, a new installation of Muppet zaniness that is written by (and stars) Jason Siegel. One of the trailer parodies was even Green Lantern themed.
What does the new one spoof? Among other things Paranormal Activity, Twilight: Breaking Dawn and, well, itself:
The Muppets hits theaters nationwide November 23, 2011. Go blow off your Thanksgiving preparations and support interspecies dating, mediocre ursine comedians who wear farty shoes and Jason Siegel's continued attempts to work on projects that are not How I Met Your Mother, animated, or produced by Judd Apatow. Stay strong. I believe in you, man.