on
May 23, 2013
at
8:38 pm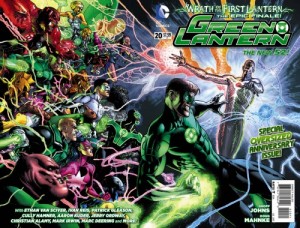 If you're anything like me, when you see Green Lantern #20, and its thickness, squared binding and eight dollar price tag, you will think of The Amazing Spider-Man #700 from just five months ago – an issue that was padded with secondary stories to pad out it's length. So you might think that Green Lantern #20 would do the same to fill its 86 pages and get a little upset that you're dropping eight clams on what would seem to inevitably be a big chunk of filler.
You would be wrong. Sure, there is filler here – I'm not sure I needed nine pages of messages of congratulations to writer Geoff Johns (although DC Entertainment President Diane Nelson's message makes me believe she might be the brains behind the Horse_EBooks Twitter account) – but on the whole, this is a one-story comic book. So you're damn sure getting your money's worth with this comic book.
And it is a big story. This is Johns's final issue driving the Green Lantern franchise, and he treats it like the series finale of a long-running television show, even though the Green Lantern books will continue, as the five full-page ads in this issue for those books attests. And as a series finale-feeling story, it brings back all the old favorite characters for a final bow, it throws all the old fan favorite moments at the wall, and as is befitting a sci-fi action story, it blows stuff up real good.
But this is a space opera, not hard science fiction. So while Johns puts all the pieces into place to make a slam-bang action-packed story, there are a bunch of elements required to push that story forward that are firmly based in the scientific principle, as defined within the Green Lantern universe,  of the Theorem of Shut Up That's Why. So some of the points between A and Z require a lot of taking on faith to avoid nitpicking… but if you can, you'll have yourself a damn fun read that brings all your favorites up to bat one last time, and even tells you where some of these characters would end up.
↓ Read the rest of this entry…