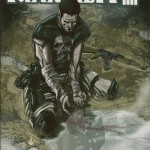 In the most recent reboot run of The Punisher series, Greg Rucka has chosen to take the tactic of letting Frank Castle's actions tell the bulk of the story. As he told Comic Book Resources:
We've had so many people over the years do an amazing job of getting inside Frank's head, it seemed to me that nobody needed my take on it because it would just be me aping somebody else really. We know Frank. He's very straight-forward about what he wants, why he wants it and what he's willing to do to get it. We ran with him not talking for as long as I think we could get away with in terms of the story. It's not that we were trying to render him mute as much as, he's a guy who doesn't have a lot to say. He's not the type to talk to hear himself talk. Plus, he doesn't really surround himself with people that he's going to converse with.
The rest of the story is told from the point of view of the characters on whom Frank's actions have had an impact: a police officer, Walter Bolt, who receives a promotion after being perceived as a hero during a shootout in which Frank Castle actually was the one who saved Bolt's life, a bride, Rachel Alves, who is the only survivor of a massacre that took place on her wedding day, and Norah Winters, who is covering Castle in an attempt to be taken more seriously as a reporter. It's an interesting choice for Rucka; Castle is so involved in his one man war on crime that he either doesn't care or have time to acknowledge the impact his actions have on the few people he has around him. Punisher #5 continues in this vein as the characters approach Thanksgiving in the 616.
Spoilers and small children after the jump!