on
February 6, 2013
at
9:18 pm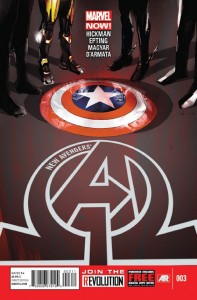 It's hard to believe that it's only been a month since Jonathan Hickman debuted his Marvel Now reboot of New Avengers, to generally good reviews, and, well, this one:
Christ, he thinks he's making movies. That's why I wasn't completely satisfied by Avengers #1, and was actually kinda pissed off by New Avengers #1: they're not really stories.
Yeah, it didn't do a hell of a lot for me. Hickman started New Avengers in a way that felt like a movie trailer: a tease of a terrible, world-shattering apocalypse to occur at some point in the future, with a final assembly of heroes to combat this purely theoretical threat in heroic establishing shots with explanatory and expository slogans, followed by a team shot… all without a hell of a lot actually, you know, happening. All it was missing was some deep baritone growling, "In a world…" and an immediately-following commercial for Doritos. It was such a blatant setup for story versus actual story that it actually made me kind of angry.
That, however, was a month ago. This week, we have New Avengers #3, and the Illuminati is actually in a position to face the terrible, world-shattering apocalypse. So now that it's here, how was it? Well, the downside is that the actual confrontation is, on the scale of action sequences, less the last ten minutes of the Avengers movie and closer to the last time I was shitfaced and tried to get the TV remote to jump to my hand using telekenisis. The good news is that, despite the somewhat anticlimactic action sequence, it features a hell of a lot of damn fine character work. And while there isn't a lot of action, there is plenty of conflict. Some damned entertaining conflict, as a matter of fact.
↓ Read the rest of this entry…