on
August 15, 2013
at
9:25 pm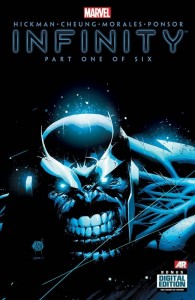 For years, whenever Marvel kicked off a big event comic, they made a point of swearing before God and everybody that the story could be read on its own, without needing to track down a bunch of other comics to understand what's going on. It was all bullshit, of course; be it Civil War or Secret Invasion or Avengers Vs. X-Men, the second the event kicked off, it crossed into every title Marvel published. Sure, you didn't need to read those other comics to understand the whole story, provided you were okay with taking certain things you saw on faith. Things like just assuming that, somewhere in the gutters of the main title, D-Man obtained the Infinity Gauntlet while Batroc The Leaper's big toes were turned to Mrs. Dash Onion Seasoning.
That, however, was the past. Welcome to Infinity, a book not only with a final page consisting of a diagram telling you what other comic books you should be following to get the whole story, but one which, if you haven't been reading both Jonathan Hickman's Avengers and New Avengers since launch day, will be difficult to follow from the first page. Which is fine for people like me who have been getting those books all along, but which isn't exactly welcoming to any poor schmuck who wanders into a comic store after, say, seeing The Wolverine, and saying to himself, "Ooh! That comic has the dude from the credits of The Avengers movie!"
And that wouldn't be a bad thing if Infinity #1 was character-driven, and gave you compelling people to follow through this unfamiliar scenario. Unfortunately, this book is all about plot and putting pieces into place to eventually blow some shit up. And the characters are simply pushed through this clockwork, normally almost indistinguishable from each other except for the colors of their costumes.
Hell, one of the main heroes of the story is featured in a four-page sequence where he is asleep, for Christ's sake. ↓ Read the rest of this entry…