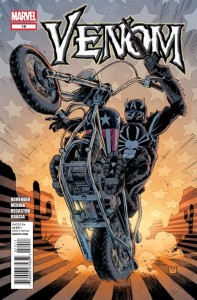 EDITOR'S NOTE: This review contains spoilers, such as the fact that Venom rides Captain America's motorcycle. Which you learned from the cover to your left. Damn covers have no regard for spoiler alerts. However, consider yourself warned. 
Stop me if you've heard this one: a guy walks into a Marvel comic, and he gets confronted by Captain America. Cap tells the guy that he's out of control and he needs to be brought in, so the guy tells Cap that he's always respected him and that Cap's been a big influence on him, and then he punches Cap in the temple, steals some of his shit and gets away clean! Ha! Get it?
Oh, you've heard that one? Of course you have. It's been a staple of Marvel Comics at least since Daredevil: Born Again. So much so that Mark Millar and Matt Fraction hooked it for The Punisher during and just after Civil War. And then Mark Waid took it for Daredevil #2 just three or four months ago. Hell, Daniel Way used it in Deadpool this fucking week. And now Rick Remender's dusted it off for Venom #10. And considering all these characters wind up kicking Captain America's ass when he shows up, it's reaching the point where I'm beginning to think that Captain America's Kryptonite is simple respect; if Baron Zemo had offered to shake Cap's hand before shooting off that rocket, this book would take place in the Wunder Universum and everyone would be eating schnitzel right now.
This time around, Cap shows up to shut down the government program that hooked Flash Thompson up with the Venom symbiote. Unfortunately, Cap's timing leaves a little to be desired, since Thompson is being blackmailed to do crimes as Venom by Jack O'Lantern and Crime-Master – because nothing proves you're a master criminal like telling everyone you're a master criminal. Ask Keyser Soze. But I digress.