on
February 24, 2013
at
9:30 pm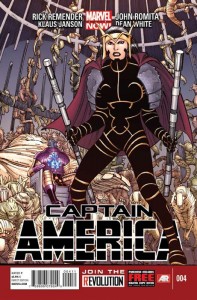 The unique thing about comic books, at least comic books from the Big Two that are owned by the publisher and have been around for a while (of course, whether those kind of comic books are the best thing for the industry or for readers is a whole different argument) is that writers and artists come and go, while the character remains. This dichotomy brings comic fans one of their favorite things – a continuity across years that can give some characters and titles an epic, historic feeling that supercedes the often simple adventure stories at their core – and one of their least favorite things – a continuity across years that the new douchebag creative team on a book are clearly fucking with with no regard for the character's epic history and they've ruined the character and now I will Tweet a death threat and hello, Officer, no handcuffs are necessary, if you'd just read this issue, you'd see that I was right to threaten to set fire to the writer's cat, and is that a Taser, and…
…well, you get the point.
The point being that creative teams change, and each new set of people has their own stamp that they want to put on these long-running books. And a lot of times these creators want to pay homage to a particular era from the character, which can be pretty damned varied; keep in mind that, at various times, Spider-Man has been a high school student battling street-level crime, a college student fighting more mid-level threats, an Avenger, a widely-reviled public menace, a member of the Fantastic Four, and a fucking clone… and now he's Doctor Octopus. So if a writer wants to revisit any particular era, the story could be almost any kind, and if they want to do something new with the character, they'd need to make him a gay cowboy eating pudding or something (and I'm pretty sure if I dug far enough into the Marvel Team-Up back catalogue, I might even find that's already been done).
All of which brings up to Rick Remender, and his reboot of Captain America following Ed Brubaker's long run on the title. Brubaker's reign on the title was categorized by S.H.I.E.L.D.-based espionage stories, and while God knows that he took his share of chances on the title – he killed Cap and brought Bucky back to life, for Christ's sake – they were generally grounded, somewhat realistic stories with a classic Steranko-era feel. However, that's not the only kind of Captain America story there is; Cap has a legacy of science fiction-style stories in his history, written and drawn by no less than Jack Kirby and Gene Colan – let's remember that before MODOK became a comic reader's punchline, he was created to fuck around with Cap.
Remender has clearly chosen to focus on the science fiction history of Captain America in his initial reboot story, which continues through this weeks issue #4. This is a full-blast sci-fi story, including alternate universes, alien races, spaceships, and one of the classic Captain America sci-fi villains: the Kirby-created Armin Zola. The question is: how does all this weirdness – weirdness supported by various eras in Captain America's history, mind you – go down immediately following years and years of cold war-style spy stories?
Honestly? It's going down hard.
↓ Read the rest of this entry…